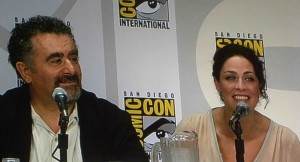 Actor Neil Grayston is the moderator for the Warehouse 13 panel, which had executive producer Jack Kenny and stars Allison Scagliotti (Claudia), Saul Rubinek (Artie), Eddie McClintock (Pete) and Joanne Kelly (Myka).
The Warehouse 13 team talked a lot about Aaron Ashmore (Steve) joining the cast in season 3 as one of the new Warehouse agents. The writers didn't want everyone to just assume that Myka would return to the Warehouse after quitting and wanted to bring in a replacement. They actually cast Aaron only days before the table reading of the season premiere. EP Jack says that Aaron's character is a very funny addition to the cast.
Also, Allison said that Steve is the first person in the Warehouse who can really be a peer for Claudia and will have a hand in her evolution of becoming a Warehouse agent. The realtionship between Claudia and Steve will be complex and the end of the season will be 'mind blowing'.
Joanne also explained that season 2 was an emotional year for Myka, while season 3 will be about her working her way back into the Warehouse family. Eddie says that Pete definitely wants Myka back, because the two are like brother and sister, so Pete is obviously upset about her leaving.
Season 3 Spoilers
The cast actually gave out quite a few teasers about season 3. First, each episode of the season will have a different tone. Also, one upcoming episode (with Neil Grayston guest starring) will be taking place inside of a video game. Saul will be playing a Monty Python version of Artie, while Eddie will be playing a gladiator. This will be either episode 3.05 or 3.06 and is called "Don't Hate the Player"
The upcoming Christmas episode will be full of fan easter eggs. The writers constantly ask themselves whether fans will like potential storylines and make an effort to make fans happy.
Star Trek's Kate Mulgrew will be guest starring for a four episode arc in season 3 and fans will see pieces of different Warehouses this season (including the one in Constantinople).
EP Jack said that they're actually pitching the idea of a Warehouse 12 spin-off (with HG Wells) to Syfy and the network seems very interested in pursuing the idea. It's early days, but the possibility of a spin-off seems promising.
clarissa @ tvovermind.com
twitter.com/clarissa373
twitter.com/tvovermind