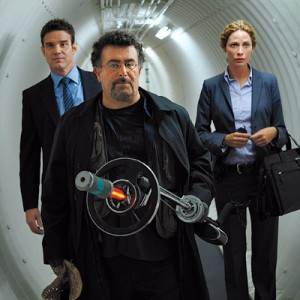 Last week Syfy announced that their hit series, Warehouse 13 would return this summer for it's second season of 13 episodes, beginning on Tuesday, July 13. Today the network released more information about the second season, including the start of production on season two this month, and confirming that series regulars Eddie McClintock, Saul Rubinek, Joanne Kelly, and Allison Scagliotti will return, as well as series guest star CCH Pounder.
Warehouse 13 is Syfy's #1 original hit series, leading in total viewers at 4.1 million, making it Syfy's most successful series in its 17 year history. Syfy also announced that Nolan Funk, Nickelodeon star of Spectacular and Drake and Josh will guest star in a four-episode arc this season. He'll play Todd, a tech savy local who takes a special romantic interest in Claudia (Scagliotti), who is also an alumni of Drake and Josh.
The full press release is below:
SYFY'S HIT SERIES, WAREHOUSE 13 BEGINS SEASON TWO PRODUCTION THIS MARCH LEADING TO ITS SUMMER PREMIERE ON TUESDAY, JULY 13

Eddie McClintock, Joanne Kelly, Saul Rubinek, Allison Scagliotti and CCH Pounder

All Return For Second Season Pick-Up

Nolan Funk (Nickelodeon's Spectacular) To Guest Star In Four Episode Storyline

New York, NY — March 2, 2010 — Syfy's #1 original hit series, Warehouse 13, commences production on season two this March in Toronto and will kick off the new season with a summer premiere on Tuesday, July 13. Series regulars, Eddie McClintock, Joanne Kelly, Saul Rubinek and Allison Scagliotti, along with series guest star, CCH Pounder, reprise their roles in the series ratings leader for Syfy. The 13 episode, hour-long dramedy is slated to return this summer 2010.

Nickelodeon star, Nolan Funk (Spectacular, Drake & Josh) guest stars in a four-episode storyline in season two. Funk portrays Todd, a tech savvy local who takes a special romantic interest in Claudia (Scagliotti). This budding relationship is put to the test by the secrets they are forced to keep from one another.

Warehouse 13 follows two Secret Service agents who find themselves abruptly transferred to a massive, top-secret storage facility in windswept South Dakota which houses every strange artifact, mysterious relic, fantastical object and supernatural souvenir ever collected by the U.S. government. The Warehouse's caretaker Artie (Saul Rubinek) charges Pete (Eddie McClintock) and Myka (Joanne Kelly) with chasing down reports of supernatural and paranormal activity in search of new objects to cache at the Warehouse, as well as helping him to control the Warehouse itself.

Warehouse 13 became the all-time Syfy leader in total viewers (4.1 million), Adults 25-54 (2.1 million) and Household ratings (2.9), as measured by 7-Day DVR data, making it the most successful series in Syfy's 17-year history.

Warehouse 13 is produced for Syfy by Universal Cable Productions. Jack Kenny (The Book of Daniel), returns as showrunner.

Syfy is a media destination for imagination-based entertainment. With year round acclaimed original series, events, blockbuster movies, classic science fiction and fantasy programming, a dynamic Web site (www.Syfy.com), and a portfolio of adjacent business (Syfy Ventures), Syfy is a passport to limitless possibilities. Originally launched in 1992 as SCI FI Channel, and currently in 95 million homes, Syfy is a network of NBC Universal, one of the world's leading media and entertainment companies. Syfy. Imagine greater.
Source: Syfy