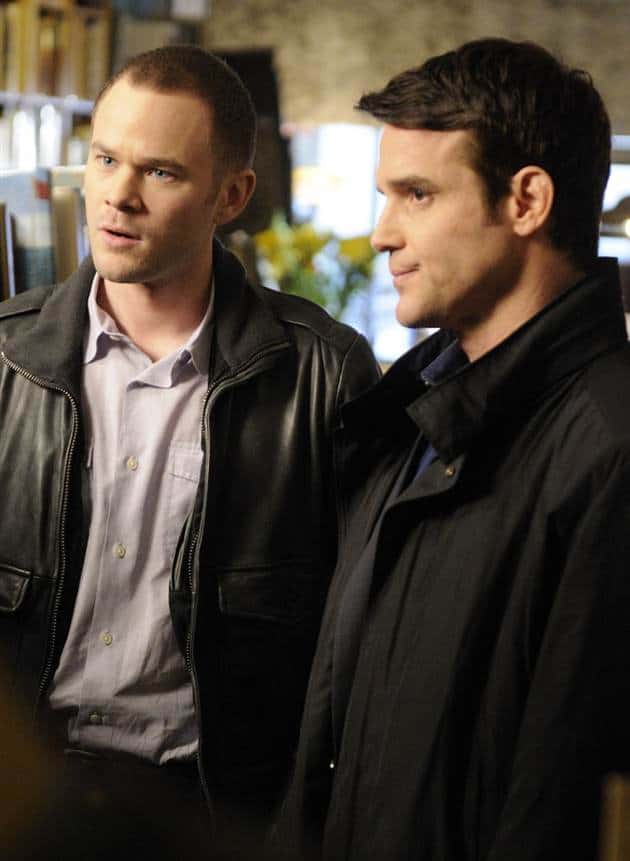 Syfy's hit scripted show, Warehouse 13, returns for its third season on July 9 at 9:00 p.m. ET. But we have your first look at the new season right here!
If you're new to Warehouse 13, it involves a team of government agents who work at a secret storage facility that houses very strange and mysterious artifacts and relics, all collected over time by the U.S. government. Artie Nielson (Saul Rubinek) is the Warehouse's caretaker. Pete Lattimer (Eddie McClintock) and Myka Bering (Joanne Kelly) were originally recruited after a run-in with a mysterious artifact to help protect the Warehouse and its contents. Claudia Donovan (Allison Scagliotti) and Steve Jinks (Aaron Ashmore) have joined the Warehouse to help investigate reports of supernatural and paranormal activity and find new objects.
There are a lot of questions leading into the third season of Warehouse 13. Has Myka left the Warehouse team for good? How will newcomer Steve Jinks (recruited by Mrs. Frederic to be Pete's new partner) impact the relationships already established among the crew? And have we seen the last of villainous H.G. Wells (Jaime Murray)?
In the premiere episode, Ashley Williams (Good Morning Miami) will guest star as a tough-as-nails FBI agent Sally Stukowski, who locks horns with Pete.
Below are promo images from season 3 of Warehouse 13. Don't miss the premiere on July 11 on Syfy!
[imagebrowser id=1052 template = flipped]
clarissa @ tvovermind.com
twitter.com/clarissa373
twitter.com/tvovermind