Warehouse 13 destroyed. Beloved allies lost. The stakes and intensity of this new season have unquestionably risen. About a week ago, still recovering from San Diego's world famous Comic-Con, Saul Rubinek and Eddie McClintock kindly spoke with press about their show's new "double length" (twenty episode) season and tonight's dark season premiere.
My first question was whether the bulk of the season will reflect the new darker tone or if it's just an aspect of the first few episodes? Eddie answered by quoting his talented & lovely co-star Joanne Kelly (a.k.a. Agent Myka Bering), "As Joanne said at Comic-Con, and I thought it was well put, "we're still painting with all the colors that we were painting with before, but we've added a darker color." So it's not necessarily that the show has taken a shift tonally, but there are these great consequences. The fact that H.G. Wells is dead. The fact that Jinks is gone. The Warehouse is gone. Mrs. Frederick is gone. We have to deal with that. And to come back from that and be jokey and ridiculous, it just wouldn't make sense. It'd be disrespectful to the show." Adding, "Even so, Pete will still naturally use his comedy to protect himself from the fact that he is devastated by the loss of his friends."
"Yes, the show is definitely darker." Saul Rubinek (acclaimed veteran of stage and screen) confirms of the new season, "Every single character has to call on resources that they didn't know they had because things are less certain than they ever were. And things that you've thought were for sure and people that you could count on for sure, you can't anymore. As a result, all the characters have to grow in order to survive, all of us. I'm trying to think of any of the characters – even our recurring characters – that have not grown this season by dint of the terrible circumstances and consequences. Allison (Scagliotti) said the theme for this ten episode arc is "Consequences." There are tremendous consequences and the writers decided there had to be some consequences that were irrevocable." Saul further elaborates, "We've always tried to maintain a balance. No matter how dark we get, there's still going to be lighter moments. Listen, if Breaking Bad and Dexter weren't also funny they wouldn't be hits, would they?" That storytelling truth inspired Eddie to offer, "I have to say, I've found a lot of actors are afraid of comedy. They've come right out and said it, and then I can see the fear in their eyes. I think that actors fear, and I do too, falling on their face."
Rubinek reflects on the relative infinitude of Warehouse 13, "The humor of our show is such that you really don't know from one second to the next where the jokes are going to come from – that's still true. We don't take ourselves that seriously. But on the other hand, we're not so light that we're fluff. I challenge anybody to figure out what this show is going to be from one episode to the next. You really don't know. Yes, they're going to look for an artifact that's got some downside, but that's about all you know. You don't know which way it's going to go or how it's going to go, and neither do we. On a fourth season of a very successful show it wouldn't be outrageous for the writers, studio, or network to say, "Play it safe. We've got our core audience. We don't want to mix things up too much.'But what happened for us is that they stepped it up. I think you'll see this season that they've taken tremendous chances. The writers, the producers and executives all decided that we've earned the right to raise the bar and stretch things a bit and we all believe our audience will go with us. Even the use of artifacts becomes a darker and more dangerous and less takebackable thing than ever before. Our fans are going to be shocked, they'll be shocked this year, but I think they look forward to the unexpected." Eddie (Agent Pete Lattimer) assuages worries that the show will change too drastically by reassuring, "Certainly there will be fallout from the use of artifacts that stays with everybody that we cannot take back. It changes everyone permanently, but, from week to week we'll still have light, fun ones. We just don't want the show to become predictable, the audience has to know that we can't just fix everything every time."
McClintock feels closely bonded to his character and is proud to've grown and matured with him over the past three seasons. Describing how Pete's story has parallelled his own life Eddie forthrightly confides, "I can tell you the biggest parallel – I think – is when we started this years ago, the character of Pete, if you remember in the pilot, he has a one-night stand with some girl he just met. He kind of gives her the boot, you know, he gently suggests that she go because he's got to get to work. And, it turns out his work is to guard the President. So I think we see that he doesn't take his job all that seriously, and, I think he's a little overly egocentric. He's pretty wrapped up in Pete. He's a recovering alcoholic, so even though we don't know that, it's kind of a classic condition of the recovering alcoholic which I'm well aware of because it's me. As we've gone along and as he's made these relationships and cultivated these relationships with the people that he now calls family, I think he's realized that the world doesn't revolve around him. And he's better served to let his world revolve around the protection and care of his family. You know his father died when he was young. His mom and him weren't that close. She kept the secret that she was a Regent from him. Another parallel being that when I started the show, my wife and I had just started having children. Before that, we did things for ourselves. Now everything we do is for the boys. It's become more about my boys and my family, and I think that that's kind of the journey Pete has made and continues to make,.. growing, becoming less selfish. I always look to Pete as a way to be a better man. The way Jack Kenny has written him, he's so honest and so unjaded, such a pure guy. He comes from such a place of pure joy that I just hope some of that rubs off on me."
For Rubinek, playing Artie Nielsen has been an "incredibly exciting time." He ponders, "At a certain point it becomes the biggest character I've ever played and it's quickly become, probably, the best character with the most range, because of all the episodes and all the different things the writers are asking of us. Given that I'm a very old man who's been doing this for 40 years or so, what's most exciting is that the audience is so connected with us. It's an extraordinary thing. We also have tremendous support from the studio and the network. It's very rare in any actor's career that you're doing a show that is the No.1 show in the history of that network. That's rare, and we've held on to that since the very beginning. It's a testament to the writing and the family that we've created. And the fact that families – people aged 10 to 80 – are watching together, that's something I'm really proud of." "You know, it feels like there's been a shift in regards to the visibility of the show and the popularity of the show," Eddie affirms, "It's a good feeling. We've worked really hard. Jack Kenny works really hard. We all do. And to see that the people are really responding is what it's all about."
One exciting example of the network's overall support is the increased episode order for Warehouse 13's fourth season. The new shooting schedule gets a bit Grinchy, though, because it means they won't be airing a Christmas Special as has become a Syfy tradition. Rubinek reports, "there won't be one because we're doing 10 and 10, it's really two seasons." McClintock muses on their most recent Christmas episode, "This last year's was, I thought, one of the best episodes of the whole series." "Yes, it was really beautiful," Saul agrees, "it was a great episode and we really enjoyed it."
Revisit recent interviews with Eddie McClintock regarding their last Christmas Special here as well as last season's devastating Season Finale here. When I next speak with Jack Kenny, I'll ask about the state of the proposed prequel spinoff series mentioned in the Season 3 Finale interview.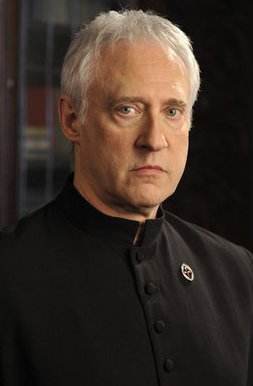 Adding to the drama this fourth season is fan-favorite genre actor Brent Spiner. Brent will portray Brother Adrian across a riveting six-episode arc wherein he and Saul reunite. Star Trek fans likely remember the powerful Star Trek: The Next Generation episode Rubinek guest starred in titled, "The Most Toys." Saul happily recalls of their W13 time shooting together, "It was awesome. We had a great time. It was a great season for me because I got to work a lot with Brent. We actually started off in the theater together. We did a play together in New York in 1979, and our ten year reunion was when we did TNG in 1989. Here we are now reuniting again over 22 years after that." Fans of the their remarkable TNG collaboration should look for subtle nods included in Warehouse 13 scenes just for them. "We've put some clues in for our fans that relate to 'The Most Toys'," Saul confesses, "some lines of dialog that suggest we've worked together before, so, that's fun. It'll be fun for fans to figure out."
This week I'll be speaking with Brent Spiner and Executive Producer Jack Kenny, look for that joint interview appearing here in coming days.
Watch Saul and Eddie tonight in the stirring season opener of Warehouse 13 @ 9/8c on Syfy. While watching, make sure to check-in at GetGlue to score a special Premiere episode sticker.
While you wait, you can check out a sneak peek of the new season (below) as well as an extended preview scene from tonight's must-see premiere.