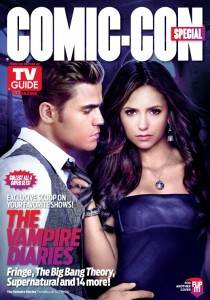 Warner Bros. is once again going all out for Comic-Con, partnering with TV Guide to create special collectible TV Guide covers for four of its shows: Supernatural, The Vampire Diaries, The Big Bang Theory and Fringe.
To get your hands on these special issues, visit the Warner Bros. booth (#4545) on the convention floor. For those unable to attend Comic-Con in person, all four sets of collectible 'flip'covers will be on sale from July 17 at newsstands. And for the first time, the special issue will also be available for purchase on the NOOK by Barnes and Noble.
These special Comic-Con issues will also contain features for the following shows:
Returning Warner Bros. shows, including Nikita, Person of Interest and Childrens Hospital.
Previews for new Warner Bros. shows, including Arrow, 666 Park Avenue, The Following and Cult.
Warner Bros. Animation's hit series MAD and Scooby-Doo! Mystery Incorporated, as well as the action-packed DC Nation block on Cartoon Network, featuring current programs Green Lantern: The Animated Series and Young Justice: Invasion, as well as original animated shorts and upcoming shows Beware The Batman and Teen Titans Go!
Plus:
A sketch-by-sketch guide to drawing Bugs Bunny from The Looney Tunes Show, by character designer Jessica Borutski
A Justice League foldout poster as drawn by bestselling artist and DC Entertainment Co-Publisher Jim Lee.
An exclusive preview of MAD Magazine's unique take on The Dark Knight Rises as drawn by the renowned Sergio Aragones
An in-depth look at the new He-Man and the Masters of the Universe comic book series written by James Robinson, with artwork by Philip Tan
The hottest photos from the TV Guide Magazine yacht and photo booth at Comic-Con 2011
The ultimate Comic-Con survival guide, with tips from stars of The Big Bang Theory, Fringe, Supernatural and The Vampire Diaries, among others
Comic-Con Couture: how two inspired designers turn Warner Bros.'Comic-Con bags into the Con's biggest fashion statements
Comic-Con will be taking place in San Diego from July 12 to 15. Use the arrows above to browse through the covers.