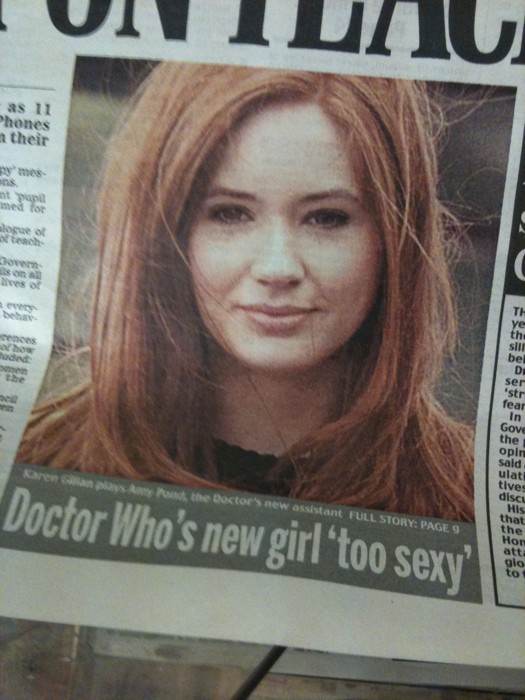 One aspect of Doctor Who is quite interesting, and that aspect is very difficult to find on American television. The British sci-fi series has proven itself to be consistently appropriate and entertaining for children, while remaining engrossing to adults as well. That explains the show's massive appeal — it's one of the few shows for which you can find specially-themed Doctor Who USB hubs (for adult geeks) and specially-themed Doctor Who lunchboxes (for smaller geeks).
But some parents are complaining that "The Eleventh Hour" tipped the scales a little to far on the adult side.
Most complaints of that nature are directed toward Karen Gillan's character, new companion Amy Pond. A headline for British newspaper Daily Mail featured an article calling "Doctor Who's new girl 'too sexy'." The Daily Telegraph, meanwhile, featured complaints from viewers about some aspects of the character, which they found too racy.
"They've completely demeaned Doctor Who by replacing good episode stories with slutty girls," one offended viewer stated, referring to several of Amy's actions, including her refusal to turn around while the Doctor changed clothes (instead, she looked on with interest while her boyfriend turned around). Complaints were also directed toward the show's inclusion of Amy's career as a "kissogram," someone who is hired to kiss people. As part of her job, Amy dressed as a policewoman, which is the costume she wore for most of the episode (though references were made to her having various other costumes).
"Why did she dress up as a tarty policewoman? Surely that's not fitting for a family show," complained another viewer.
In my opinion, the allegations of Pond's sexiness were all true. However, I disagree that these actions had a negative affect on children. Concerned parents often seem to forget how much can go completely over children's heads. The statement of Pond's career as a kissogram was done with such brevity that children barely had time to ask for a definition before being confronted with images of an evil-looking snake creature.
So, while there were certainly sexual undertones in "The Eleventh Hour," I don't think there's much reason for complaint. Sure, adult viewers might have caught these references or even the overt foxiness of Gillan's character, but it seems unlikely to me that many children understood or even cared about Amy's career or why she was even dressed as a police woman.
What do you think? Did Doctor Who have too much innuendo? Sound off in the comments below.