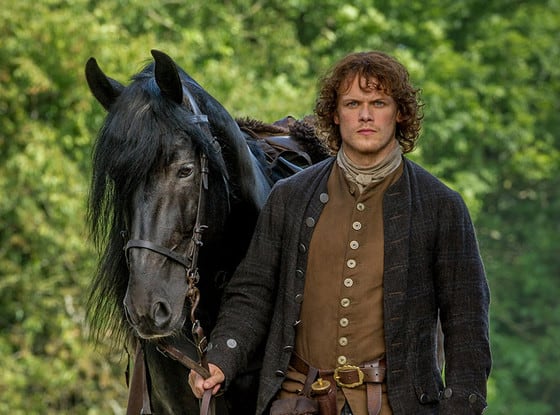 If you're an Outlander fan (like myself), you've been counting down the days until the show's return in April. Now, though, Starz has made the never-ending wait (a little over two months left!) a wee bit easier by giving viewers a sneak peak at the first full minute of Outlander's mid-season premiere. The scene, which premiered on Saturday night before the season premiere of Starz's pirate drama Black Sails, is a major change in point-of-view for Outlander fans, as for the first and only time, Jamie (Sam Heughan) will be narrating an episode instead of Claire (Caitriona Balfe).
The very introspective clip finds Jamie alone, skipping stones across a stream, wondering about the choices he has made in life.
"I've always known I've lived a life different from other men," he says. "And when I was a lad, I saw no path before me. I simply took a step and then another, never forward, never onward rushing towards some place I knew not where. And one day, I turned around and looked back and saw that each step I'd taken was a choice."
Outlander executive producer Ronald D. Moore explains that the shift in perspective was a way for the series' writers to "start the show again."
"It was an opportunity to then shift point of view," Moore told reporters at the TCA winter press tour. "So it was interesting to tell those events in that first hour from Jamie's point of view. And then, it also served a larger goal in the life of the series in that the show beyond Season 1 is really about Jamie and Claire together, and this was a moment to sort of pivot to now include him in the perspective for the audience, and that gave us permission moving forward to then do scenes that Jamie was in, that Claire wasn't in, so now the show became about both of them as we move forward."
Watch the opening scene from the episode, titled "The Reckoning," below and make sure to tune in for Outlander's return on Saturday, April 4, at 9 p.m. on Starz.
[Photo via Starz]