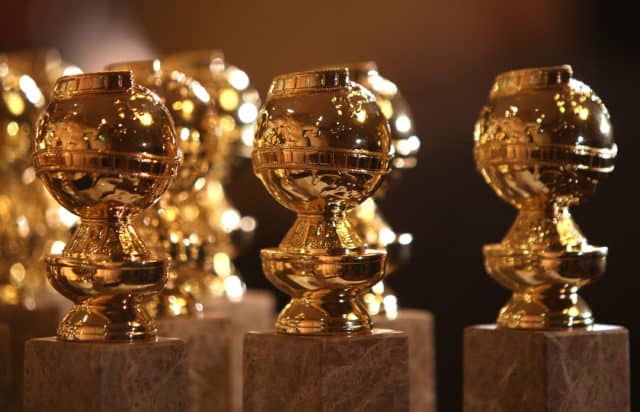 Get ready, red carpet fans, because the 2018 Golden Globes is nearly here! It's a big night for the entertainment industry since it kicks off the awards season. The 2018 Golden Globes will be hosted by Seth Meyers, and this year is especially important because it's the 75th anniversary of the awards show. To help you make the most of this milestone occasion, we've rounded up some of the best ways to catch the show, who's got the best preshow, and how to stream the Golden Globes.
Throw a Golden Globes party
Decorate, dress up in your red-carpet best, invite some friends over, and make an evening of it. You can even have your own red carpet and "Paparazzi" photo booth. Find some excellent guides to creating Golden Globes–themed finger foods, appetizers, and drinks online if you don't want to imagine it all yourself. For the perpetual planners out there, throwing a viewing party can be a great excuse to have a get-together.
Watch the Globes at your favorite bar or restaurant
If you'd rather make the Globes a night out, you can see if your favorite local establishment has a Golden Globes party of its own. Many bars and restaurants, especially in major metropolitan areas, will host Golden Globes events, with viewings, food and drink specials, and games. Don't feel limited to formal events, either—you can always just ask the bartender to flip the channel.
Make it a night in
If none of that sounds like your style, you can simply tune in to NBC at the appropriate time and watch—no fancy red-carpet costumes necessary (unless you just like to dress up). Make it a cozy night at home with your spouse or significant other, or just chill by yourself. We won't judge.
Don't forget the preshow
A ton of preshow programs offer commentary, red carpet views, and interviews with actors and actresses. E! does a good preshow, and it will be available to stream live. There's also the official preshow from the Hollywood Foreign Press Association (HFPA), the organization that puts on the Golden Globes. This event was streamed on Twitter last year and saw a large audience, so we'd bet this year will be no different.
What if I don't have cable?
This is a valid question these days, but don't worry, cord-cutters—we've got you covered. You have two basic options without cable: use an antenna to pick up broadcast channels or stream the event online.
Use an antenna to watch broadcast channels for free
The Golden Globes will air on NBC, and NBC is a broadcast network, which means it's possible to pick it up with an over-the-air (OTA) antenna. The signal strength and quality can vary with location and the specific antenna you choose, but it doesn't cost you anything (apart from the antenna). You can pick up other broadcast channels as well, so it's not a bad investment.
Installing an antenna is easy enough. The real trick is finding the right location in your home to get the best signal. If you need help, use a guide to choose an antenna and find the right positioning for it.
Stream the Golden Globes online
The other option for watching without cable is streaming. NBC can be watched online in several ways. Sling TV and DIRECTV NOW are two popular streaming services that carry NBC. Social media saw a lot of unique coverage in 2017 as well, so we're anticipating a good turnout this year from the various social networks.
NBC could see a few hiccups, though. Last year, NBC didn't have the rights to stream the Golden Globes, so the show was blacked out for anyone trying to watch online. We haven't received word yet on whether the situation will be different this year, but the network saw a fair amount of backlash, so we'd imagine it's tried everything to resolve any issues for the 2018 awards.
The Golden Globes will air Sunday, January 7th, at 8 p.m. Eastern Standard Time. How will you be watching? Leave a comment and let us know.