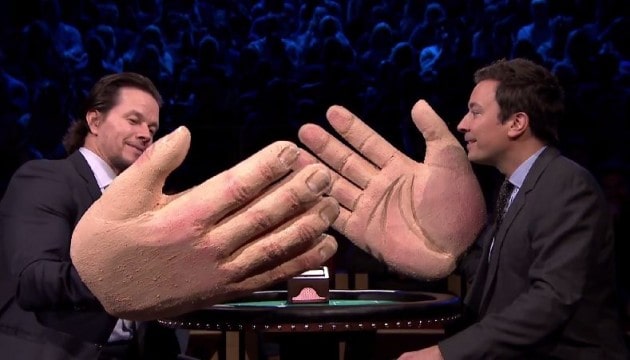 Just when we think it can't get any better than Box of Lies and Lip Sync Battle, Jimmy Fallon goes and introduces another amazing game to play with his guests on The Tonight Show. On last night's show, Fallon went up against Mark Wahlberg in a game of "Slapjack," and it was pretty spectacular.
As you can see in the video below, Slapjack is an absolutely ridiculous version of Blackjack, in which whoever wins gets to slap their opponent across the face with a giant prosthetic hand. As I said, it's absolutely ridiculous, but it's also really, really funny, especially thanks to the slow-mo replay that The Tonight Show had for each time either Wahlberg or Fallon got slapped.
Wahlberg was on The Tonight Show last night to promote his new movie The Gambler, which co-stars American Horror Story's Jessica Lange, Boardwalk Empire's Michael Kenneth Williams (R.I.P. Chalky White), and Brie Larson and hits theaters later this month. However, during the game, he joked about a former film of his, Boogie Nights, wishing he had a certain, shall we say, "prop" from that movie instead of the fake hand he found himself with.
We won"t spoil who won or who lost the game of cards between the two men (although aren't we all winners for having gotten the chance to watch something like this?), but we did learn something from the game: a slap to the face may be a better tool than a good poker face. Here's hoping that Slapjack sticks around The Tonight Show for a while, so we can see Fallon and more celebrities play.
Photo via YouTube