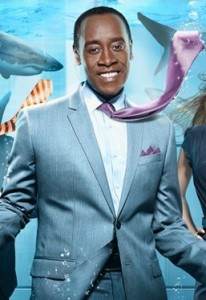 Can't wait to get your hands on Don Cheadle and Kristen Bell, or Showtime's upcoming sizzler House of Lies? Well, why should you? Showtime has seen fit to release the pilot episode of their sexy new offering to the public in advance of its January 8th premiere, which follows the season 2 premiere of the UK-import dramedy Shameless.
House of Lies boasts an impressive cast, featuring award-winning actor Don Cheadle as smooth-talking management consultant lead Marty Kaan, Kristen Bell (Veronica Mars) as sparking teammate Jeannie Van Der Hooven, as well as Ben Schwartz (Parks and Recreation) as brown-nosing womanizer Clyde Oberhalt, and Josh Lawson as math expert Doug Guggenheim. Also part of the cast is Dawn Olvieri (Heroes, How I Met Your Mother) as Monica, Marty's pill-popping ex-wife and chief rival in the management consultant game.
House of Lies originates from author Martin Kihn's book, House of Lies: How Management Consultants Steal Your Watch and Then Tell You the Time, and received a full 12-season order from Showtime in April of 2011. The pilot episode "Gods of Dangerous Financial Instruments," follows Marty Kaan (Cheadle) and the rest of "The Pod" as they consult with a greedy New York bank looking to keep its extravagant employee bonuses without facing backlash from their customers.
Unfortunately for you, all the naughty bits have been edited out for the free broadcast of the pilot (which is only available for US viewers, by the way), but you can always check out the full, un-edited version by ordering Showtime now!
Take a look at the pilot episode below, and be sure to check out Showtime's House of Lies when it officially premieres on Sunday, January 7th at 10/9 central, right after the season 2 premiere of Shameless. After all, with Dexter's sixth season over, what else are we going to do with our Sundays? Watch below, and let us know your thoughts in the comments!