As you may have guessed from our name, we like television here at TVOvermind. Hopefully, if you're reading this, you're just as enthusiastic about the small screen as we are. And, if you're anything like we are, you absolutely hate not having anything to watch.
That's why we've decided to create a new, weekly article series titled Watch This! These articles will be exactly what they sound like: they'll be suggesting what you should watch over the coming week (Monday through Sunday). If you're having trouble deciding on which show to watch (or simply don't have anything to watch at all), let us suggest to you what you should be tuning into.
Here's how these articles will work: each page will be from the perspective of a different contributor to TVOvermind. On that page, each of us will detail the one series that we think is worthy of your attention for that week. We'll give you some reasons why, tell you where and when that episode will air, and leave the rest entirely in your hands.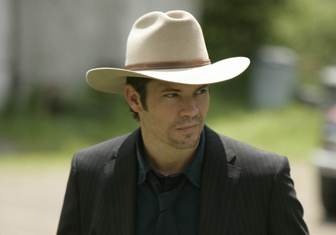 Jon Lachonis's Pick – Justified 1.06 "The Collection"

(Airs Tuesday, April 20th, at 10/9c on FX)
For those of you who are not aware, Elmore Leonard is one of the greatest minds in literature – period. He was Tarantino before Tarantino was Tarantino. If you dig hectic and imaginative plots, you will love Elmore Leonard. If you love whip-crack dialogue and characters that ooze verve, you will love Elmore Leonard. If you love all of these things, you will love Justified – the first show actually worthy of being associated with the Leonard brand. (There was Karen Sisco, but we won't get into that.)
I was skeptical of Justified initially because Timothy Olyphant never struck me as a leading man – boy was I wrong. Olyphant's Deputy U.S. Marshal Raylan Givens is the type of character you can't take your eyes off, and you can give equal parts kudos to the creative staff for nailing the Leonard formula and to Olyphant for having the chops needed to drive it home. If you are skeptical of the buzz, like I was, do yourself a favor and give Justified a glance.
And just a quick note to straighten something out. Justified was compared widely to a certain hardcore western that is, unfortunately, no longer amongst us. I despise the old "_________ is the new ________" marketing techniques anyways, but in this case the comparison was wildly astray. Justified is certainly its own show, and you should check your preconceived notions at the door. Watch Justified for what it is, you will not be disappointed.

 
Sam McPherson's Pick – FlashForward 1.17 "The Garden of Forking Paths"
(Airs Thursday, April 22, at 8/7c on ABC)
We're finally getting somewhere with FlashForward. Characters have been working to either facilitate or prevent their flashforwards, and we're getting closer and closer to finding out whether or not their actions will pay off. Perhaps most immediately was the flashforward (or lack thereof) of agent Demetri Noh (John Cho), who learned from his flashforward and others that he is slated to die on March 15 (a clever reference to the Ides of March from Julius Caesar). The most recent episode, "Let No Man Put Asunder," was set on March 12, putting Demetri's death day to fall squarely in the next episode, "The Garden of Forking Paths." We also know that March 15 is the day that Dyson Frost is supposed to die, which makes even more sense considering that Frost just kidnapped Demetri at the end of "Let No Man Put Asunder."
Of course, we know that Demetri won't die; John Cho is the biggest name actor in the entire series, and to kill him off would a very unexpected move on the parts of the writers. Would it be welcome? Certainly — this show's biggest weakness is that it can be too predictable. But it seems that the real conflict of the episode won't be whether or not Demetri dies, but whether or not Dyson dies. If he does, it would be a case of the show ridding itself of yet another great villain. If he doesn't, it'll be only further proof that the flashforwards aren't set in stone (isn't that what Al Gough proved to us, after all?).
In any case, "Garden of the Forking Paths" might be the most need-to-watch episode of FlashForward since "Revelation Zero" back a few weeks ago. I strongly suggest you tune in.
View promo photos for the episode.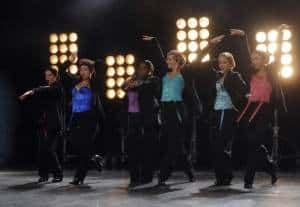 Mark O. Estes's Pick – Glee 1.15 "The Power of Madonna"
(Airs Tuesday, April 20 at 9/8c on FOX)
Unless you have been in self-enforced exile or under a rock, then you have not witnessed the power of Glee and all its glory. The FOX hit returned last week to record numbers and proved to be a juggernaut in the ratings game. Well, the juggernaut is about to become colossal as Glee is about to unleash "The Power of Madonna" unto the world, and Gleek and non-Gleeks alike will be in attendance, which means that you should be too, since the episode has been approved by the Material Girl herself.
Madonna mania has reached a feverish level at McKinley High and everyone is in on the celebration. Mr. Will Schuester (Matthew Morrison) has the girls in the glee club perform some of the Queen of Pop's songs to empower them, when he feels as if the guys of glee club aren't helping in that department. But it is Sue Sylvester's (the unconquerable Jane Lynch) apparent idolization of Madonna that will make this episode one of the most memorable hours of TV ever produced, because, people… Sue Sylvester does 'VOGUE'!!!!! I think that epical event alone should be enough for me to rest my case on the matter at hand.
But just to assure you that this is not just an onslaught tribute to Madonna, the show will delve deeper into the new set of story arcs that were introduced in last week's episode, "Hell-O," which included the return of Sue Sylvester to coach the Cheerios and continue her mission to destroy the tooth-achingly sweetness of the glee club; Will and Emma's new mammoth of a road block in their relationship, which Madonna's 'Like A Virgin' could aptly do justice for on so many levels; and the full introduction of Vocal Adrenaline, the mythical majestic that is the equivalent of a Sue's Cheerios and Will's New Directions love child. The stakes have also been raised now that the glee club has conquered the beast that was Sectionals, and are now focused on the Krakken, which is Vocal Adrenaline, Regionals, and a newly energized Sue Sylvester combined. If the McKinley High Glee Club loses to all, their existence would be just mere memory and, for Sue, a forgettable nightmare.
Tune in and witness the phenomenon, if it's only to see your favorite Madonna song performed. I promise you that you will be a Gleek by the end of the hour.
View two sneak peeks for the episode and listen to the Glee cast cover Madonna's "Like a Prayer".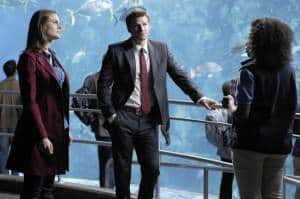 Clarissa's Pick – Bones 5.18 "The Predator in the Pool"

(Airs Thursday, April 22 at 8:00 on FOX)
Bones is a rare gem of a show – a procedural cop/forensics show that manages to keep a lighthearted air despite the sometimes gruesome death that it features. That is, in part, due to the chemistry and talent of its lead actors (Emily Deschanel and David Boreanaz), as well as its funny supporting cast.
Much like The X-Files, Castle and numerous other shows, Bones' teases its viewers with the "will they-won't they" relationship between its male and female leads. In this case, it's clear that Booth and Brennan love each other, but she's socially awkward and afraid of relationships, so she refuses to become involved with him.
Which brings us to this coming week's episode. The milestone 100th episode aired two weeks ago and delved into the history of the leads, but now Booth is ready to move onto other women after being rejected by Brennan. Enter Rena Sofer. Formerly appearing as Nathan Petrelli's wife on Heroes, Sofer joins Bones as a guest star who is very interested in the handsome FBI agent. It's been a while since Booth had a love interest beyond Brennan, so it will be interesting to see how Sofer's character fits into the dynamic of the show and whether Brennan will respond with jealousy.
Even if this new woman doesn't manage to stir up some repressed feelings between Booth and Brennan, it's still worth tuning in for the quirky characters and gruesome forensics scenes. Bones is definitely a show that should be on your radar, if it isn't already.
View promo photos for this episode.

 
Bryan Jones's Pick – United States of Tara 2.05 "Doin Time"

(Airs Monday, April 19 at 10:30/9:30c on Showtime)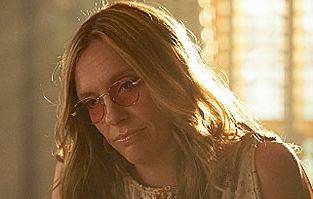 The first season of United States of Tara was incredible. The acting by Toni Collette was outstanding, and she was rewarded with an Emmy and a Golden Globe in the Outstanding Lead Actress and Best Performance roles respectively. But the second season has seemed to start off a little slowly. Granted, she was supposedly cured, though in reality she was transitioning into Buck, playing house with a hot bartender, Pammy, and for the first time in her life, lying to her husband about it all. That may sound like great stuff, and it was, but compared to getting to see her transition between three alters last season, sometimes all within a single episode, season 2 has seemed a bit slower. But that all changed last week when Tara started seeing a new shrink and having weird memory flashes from her childhood that seem like they might actually be going somewhere. And at the end of the episode her husband Max (John Corbett) walked in on Tara as a brand new alter, Shoshana. Shoshana, you see, is Tara's new shrink. She's a psychedelic 70's looking mystery woman with a flair for TAB cola. Once again, even in the 30 seconds Shoshana was on the small screen, Toni Collette impressed.
Meanwhile, Max got in a fight with a contractor he hired for their flip house, Charmaine, who was recently engaged announced that she was pregnant, Marshall had sex with a girl, but then reminded everyone that he is still, and most definitely gay, and Kate continued her strange new friendship with an artist she met while trying to collect an outstanding debt. And the bizarre that is the Gregson clan only continues.
This week we get to learn more about Tara's newest alter while Tara continues to see her, despite the fact that she is…well…her. And what's more interesting is for the first time Tara actually becomes aware of what Shoshana is doing. Max's violent ass kicking of the contractor who tried to stiff him will be coming back to haunt him. Kate's music video with her new artist friend will become an internet success, but at what cost? And Marshall will decided to break up with Courtney. Oh, and we can't forget Tara's sister Charmaine. She makes her first doctor's visit and learns some surprising news about her pregnancy. This is definitely shaping up to be the best episode, so far, of the second season for United States of Tara, and the reason why it's one show you can't miss this week! If you've got Showtime, you should be watching this!
Michael Salerno's Pick – Survivor: Heroes vs. Villains 20.10 "Going Down in Flames"

(Airs Thursday, April 22 at 8:00/7:00c on CBS)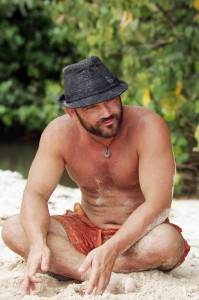 I know my fellow TVOMers have selected scripted shows, but name me a scripted show that has lasted twenty seasons and can still shock, surprise and entertain. Usually, all you get with long-running series are the same boring storylines recycled over and over again (Law and Order, I'm looking in your direction). That is, unsurprisingly, not the case with Survivor. The granddaddy of all reality competition shows is having a Top-3-of-all-time season with its Heroes vs. Villains iteration. The best players in the series' history have been brought back to battle it out for the million dollar prize. Even though these contestants are the strongest, smartest and craftiest the show has ever seen, a number of blindsides, shifts in alliances and all-out boneheaded moves have made the season unpredictable, and kept the audience on the edge of its seat. Boston Rob? Gone. Coach? Gone. Tyson? Gone; all taken out by the guile of one Russell Hantz (left), the runner-up in last season's Survivor: Samoa. Was it fair to the rest of the contestants that they didn't get to see how he played the game before they filmed this season? Probably not, but he is on the Villains tribe, so I don't know why anyone would trust him. But they do!
This week's episode, "Going Down in Flames," features the most important moment of each Survivor season: The Merge. Having battled back from a three-person deficit, the Heroes tribe will merge with the Villains on even footing at five people apiece. Despite these even numbers, the Heroes come into The Merge with a major disadvantage. As we saw last week, JT has made what could turn out to be the absolute dumbest move in Survivor history by secretly giving Russell an Individual Immunity necklace, thinking Russell was about to be eliminated by a non-existent women's alliance. What will happen when the Heroes are informed they have completely misread what was happening in the Villains' tribe? What new alliances will form, and how will the totem poles of power realign? Will Sandra find safe haven with Rupert (her fellow Survivor: Pearl Islands participant) to help the Heroes, or will JT defect to Russell's alliance to re-even the tribes? Will Amanda and Parvati bring their Micronesia alliance back? What will the new merged tribe be called? (I vote for "Probst.") Regardless of what the answers to these questions end up being, we know that they will be given in an unpredictable and mesmerizing way. Survivor is still a weekly Top 20 show (and is often in the Top 15). With seasons like Heroes vs. Villains, it's not hard to see why.
The Merge is a great opportunity to jump in to the season if you haven't been watching, especially if you're someone who used to watch the show and know a number of the contestants, but have let it fall by the wayside. So tune in on Thursday night and watch some of the greatest drama on TV.