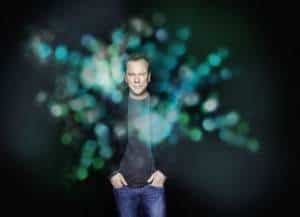 The first trailer for Kiefer Sutherland's Touch has hit the web and if there's one thing to take from it, it's that you should follow the numbers. (In Touch's case, it's all about 318.)
From the mind of Tim Kring (Heroes, Crossing Jordan), Touch tells the story of Martin Bohm (Sutherland), a man who lost his wife in the attacks on the World Trade Center. He has an autistic son named Jake (David Mazouz, Amish Grace) that can predict future events, but he can't speak. (Ironically, Jake's the show's narrator.) Touch also features Danny Glover (Lethal Weapon) as a local professor who is also a number expert and Gugu Mbatha-Raw (Undercovers) as a social worker looking into the Bohm family.
Currently without a concrete start date, Touch premieres sometime midseason with a 13 episode first season.
How do you think Touch looks so far? Are you excited to have Sutherland back on TV? What Fox show do you think Touch would be most compatible with?