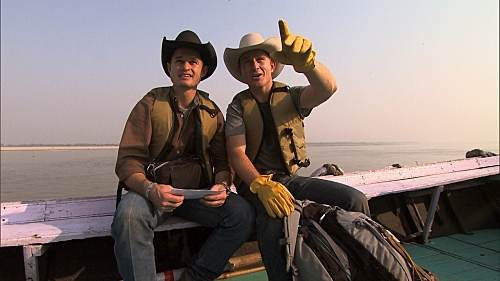 While I can safely say that I've been enjoying the current season of The Amazing Race, as its blend of teamwork, physical and mental challenges, and gorgeous scenery will never get old to me, this season hasn't hit me 100% yet. I love all the culture they indulge in and find myself so jealous that these teams will get to see the world twice, but the structure of the show leaves a little to be desired. Ahead of its new episode on Sunday after a week hiatus, I thought I'd break down a couple of reasons that the show's not reaching me as much this season and suggest things that would improve the proceedings.
1. Less emphasis on time equalizers: I fully understand why the show uses a time equalizer, or a flight/bus ride/challenge that doesn't begin until much later that allows every team to catch up to the leaders. It wouldn't be that fun to watch a team absolutely destroy the competition for 12 weeks, nor would it be fun to know exactly who is going home within the first few minutes of a given episode. Plus, The Amazing Race has had some heart pounding finishes involving foot races and a matter of mere seconds separating teams.
But it seems that every episode there's something that bunches the teams up again and it kind of dulls the 'oh snap'effect of having a frontrunner being knocked back if we see it every week. The teams have been more or less tethered together this season and there haven't been enough exciting end-of-the-episode races to justify its continued use. Additionally, as much as I love Kent and Vyxsin (they're scrappy and I love an underdog), the time equalizer that got them back into the game after such a horrendously executed previous leg was ludicrous.
2. U Turns need to be on tougher challenges: I like the U Turn in theory, but you need to put it with some of the tougher challenges for it to be effective. Earlier this season, the Globetrotters and Cheerleaders got U Turned, but both etours took so little time that it was the roadblock that ultimately did the Cheerleaders in, not the U Turn. It's a little pointless to have a U Turn that was only as much of an obstacle as the typically petty Speedbumps, no? Also, the challenges this season have been a touch underwhelming. I don't think that they need to make the show impossible to complete or anything, but since these people have been on the show before, everything should have been amped up, in my opinion, which includes detours and road blocks.
3. More countries: I don't know if it's just me, but it seems like we haven't seen a whole lot of the world this season. Granted, we've been in five countries through six episodes, but we were in China for a while and had been in Australia for what felt like a while previously in the season. Part of the reason that people watch The Amazing Race is to witness the wonders of the world and marvel at the beauty of the surroundings the racers find themselves in, so for them to only be in India halfway through the season feels like we haven't seen that much. On the other hand, it means that the final episodes will show some serious ground being covered, but there wouldn't be a need to do that if the first half the season was more varied. I understand that, for example, China's one of the largest countries in the world with a tremendously rich culture, but I'd still rather see them face many different countries as opposed to a few.
I don't want this to sound like I don't like The Amazing Race or that I think I know better than people who have been doing TV for longer than I've been alive. I just think that something like The Amazing Race has the potential to be pretty astounding on a season-to-season basis and they've not fully lived up to that this season. Nonetheless, I'll be locked in to the back half of the season to see if the Cowboys can hold their lead, if Ron can bring it down to a dull roar, and if Kisha and Jen can get some camera time for longer than 5 seconds at a time.
If you guys want to see how the remaining episodes of The Amazing Race: Unfinished Business go, you can check it out Sundays at 8:00 on CBS.