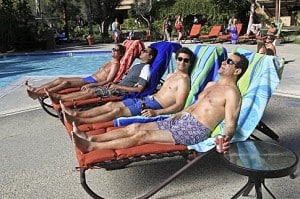 Sometimes, the best cure for heartbreak can be a little help from your friends.
We Are Men is a single-camera comedy about four single guys living in a short-term apartment complex who unexpectedly find camaraderie over their many missteps in love. Carter (Chris Smith), the youngest and most recent addition to the group, moved in after being ditched at the altar mid-ceremony, and is now eager to re-enter the dating scene and get on with his life with some guidance from his "band of brothers": Frank Russo (Golden Globe and multiple Emmy Award winner Tony Shalhoub), a successful middle-aged clothing manufacturer and four-time divorcée who still fancies himself a ladies man; Gil Bartis (Kal Penn), a small business owner who was caught having the world's worst affair; and Stuart Strickland (Jerry O'Connell), a speedo-wearing OB/GYN who's hiding his assets until his second divorce is settled. Jill (Rebecca Breeds) is Frank's charming and attractive daughter, who stands as the one positive remnant from his failed relationships.
Armed with a hot tub, pool-side barbeque and plenty of questionable advice, these losers in the marriage department take Carter under their wing to impart their own brand of wisdom about the opposite sex.
Emmy Award winner Rob Greenberg, Eric Tannenbaum and Kim Tannenbaum are executive producers for CBS Television Studios. Rob Greenberg directed the pilot.
We Are Men is set to air Mondays at 8:30. You can check out CBS's 2013-2014 schedule here.
Will you be watching We Are Men? How does the trailer make the show look? Do you think How I Met Your Mother's final season will help it become a hit?
[youtube=http://youtu.be/uhjueI5OOfg&w=540&h=385]