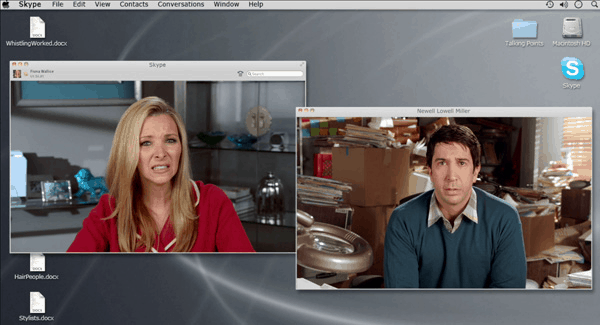 Dr. Fiona Wallice has been trying to keep her life from getting out into the public sphere for much of this season of Web Therapy. She had to give in to blackmail from Kip's former almost-mistress, lest his homosexuality and stint in a "de-gaying" camp ruin her chances at becoming a senator's wife, as well as undergo 50 hours of therapy with her sister in order to get Web Therapy accredited and keep her enterprise alive. Fiona may not have things going perfectly for her behind closed doors, but in the public eye, her image could be a whole lot worse.
On the next episode of Web Therapy, titled "Man-Cave Man", Fiona runs into a piece of her past that she'd rather forget. Well, that she did forget, as her newest client Newell (David Schwimmer) is a former college classmate whose father Fiona slept with in order to raise her grade. And Fiona hasn't a clue of who this man is or the danger that he could pose to Kip's campaign. If he decides to go public, especially after the recent 30-point tumble that Kip took in the polls, Fiona's dreams of becoming a "first lady" may be over and all the sacrifices made by both parties will have been for naught. Thus, Dr. Wallice will have to soothe any lingering hostility that Newell has toward her or kiss the political power goodbye.
Ever since Friends went off the air after 10 years, the cast has been popping up in one another's shows (Dirt, Cougar Town, Episodes, Joey), with Schwimmer the second former cast member to be treated on Web Therapy. Last season, Courteney Cox had a brief run on the show as a psychic named Serena that lost her abilities and needed Fiona's help in channeling them once again.
Web Therapy airs Monday at 11:00 on Showtime.
How have you been enjoying this season of Web Therapy? Which of the other Friends cast members would you like to see Fiona treat next? Do you like getting to see the cast reunite on one another's new shows?