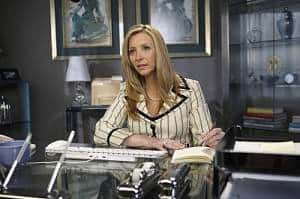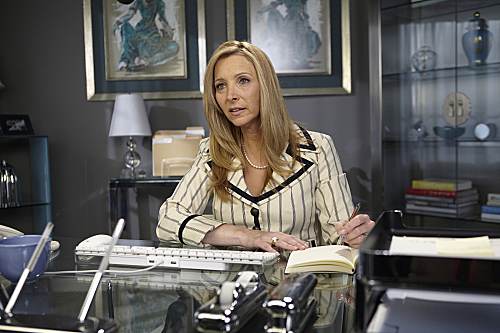 Lisa Kudrow is returning to star in the Showtime comedy series, Web Therapy, which has its second season premiere at the beginning of July.
The cable channel has just announced 12 celebrity guest stars for the series, some new, some returning. They include:
-MERYL STREEP plays 'Camilla Bowner,'a consultant brought in by Kip's political handlers to re-orient Kip's wandering sexuality.
-DAVID SCHWIMMER plays 'Newell Miller,'the son of Fiona's college professor with whom she had a "romantic" encounter. Unbeknownst to Fiona and his father, Newell witnessed the traumatic event and Fiona has haunted him ever since. He is contacting her now on the advice of his new therapist to find closure, but Fiona has other ideas.
-ALAN CUMMING returns as Scottish billionaire media magnate 'Austen Clarke,'a new patient of Fiona's who quickly falls under her spell — much to Fiona's romantic and professional benefit.
ROSIE O'DONNELL plays 'Maxine DeMaine,'Austen's second-in-command, who is forced to edit Fiona's un-publishable book, most of which grossly offends her spiritual principles.
-CONAN O'BRIEN appears as himself, and contacts Fiona for help with a serious problem: he can't seem to express his anger at his sidekick, who often appears funnier than his boss.
-MINNIE DRIVER plays 'Allegra Favreau,'a B-movie actress and newly-sober reality star who options Fiona's memoir for a TV-movie starring herself.
-MOLLY SHANNON is 'Kirsten Noble,'a journalist and blogger whose postings on Fiona cause political problems for her husband — but an uptick in business for Fiona.
-DAN BUCATINSKY continues as 'Jerome Sokoloff,'Fiona's assistant and ghost-writer, who clashes with Fiona when he shows unsettling signs of independence.
-SELMA BLAIR plays 'Tammy Hines,'a surrogate hired by Jerome and his wife and carrying their triplets, who arouses Fiona's suspicions when she asks for more money.
-JENNIFER ELISE COX plays "Gina Spinks," a former co-worker of Fiona's at the now-bankrupt financial firm which is under investigation by the SEC. She worships Fiona, whom she considers a mentor, but it doesn't stop her from spreading tales about Fiona during her fruitless job interviews.
-VICTOR GARBER continues as 'Kip Wallice,'Fiona's husband, a Philadelphia lawyer whose political ambitions — and unconventional sexual life — challenge Fiona's marriage and career.
-LILY TOMLIN continues as Fiona's unpredictable Bostonian mother 'Putsy Hodge,'whose residence in a psychiatric rehab facility has unintended consequences.
Season 2 of Web Therapy will premiere on Monday, July 2nd at 11 p.m. ET/PT on Showtime.