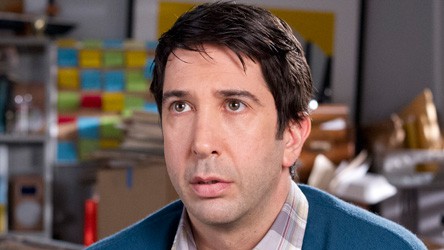 Dr. Fiona Wallice's self-absorption on Web Therapy started out as an Achilles heel for the character, but the more you're drawn into the world of three-minute therapy sessions and Jerome's screw-ups, the more it becomes a comedic strong point. Fiona is only interested in two things: being famous and being rich. Every move that she makes, every session that she takes is all about getting her name out there and promoting Web Therapy. The "autobiography", the arrangement with Kip, the Lifetime movie, everything with Robin, her interest in Conan – everything has the ultimate end point of Fiona lounging around in her wealth and fame.
On the next episode of Web Therapy, titled "The Insanity Offense", Fiona's self-absorption has put a stalker in her life in Newell (guest star David Schwimmer), the highly emotional man from last week whose father Fiona had relations with in college. Of course, Fiona hasn't a clue what Newell is going on about, not remembering having an affair with his father to get a grade changed back in college, which only fuels his anger and obsession. Sooner or later, she's going to have it put it all together, but until then, Fiona has to find a way to get rid of the man stalking her before he can get to her.
Elsewhere on Web Therapy, Fiona gets back into contact with Putsy (guest star Lily Tomlin), who's currently housed in a mental institution and directing her attention toward a sock puppet she made in art therapy. It's a bit ironic that the woman that didn't support her daughter venturing out into a therapeutic business venture is now advocating therapy after being exposed to it, showing much excitement over her creation. Should she get out anytime soon, might Fiona's mother ultimately become a supporter of web therapy?
Web Therapy airs Mondays at 11:00 on Showtime.
Have you been enjoying this season of Web Therapy? How do you think Fiona will get rid of her stalker once and for all? Will we see Putsy in the outside world again anytime soon?