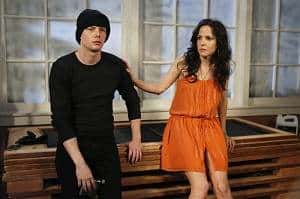 Believe it or not, Nancy Botwin has actually been trying to get out of the more dangerous aspects of the drug industry this season on Weeds. After being gunned down in the seventh season finale, the mother of three has had her priorities rejiggered from profit margins and random flings to making her youngest son pancakes and meeting her middle son's girlfriend over dinner. It's a far cry from the hell-raising, danger-seeking mama that we had for the past seven seasons, but can it last? Can Nancy go straight?
Not quite, but she has made leaps toward becoming legitimate. In the sneak peeks for the next episode of Weeds, titled "Unfreeze", Nancy is on the prowl – for a job. In an office. Granted, she's not completely out of the drug business yet, but rather than unsafe meetings with people that would like nothing more than to see her dead, she's working through a medical office. It's not an awful plan, mind you. With the money she can get from her new job, Nancy can buy a little time to figure out her next move (to get out of the industry completely or not) and support her family in the process. That takes a little pressure off of budding entrepreneur Silas and anxiety-ridden Jill, while giving Nancy something she didn't know she needed – time with her loved ones.
Bet you thought you'd never hear those words put together in a sentence before.
Trust me – neither did I.
In additional Weeds news, American Pie alum Natasha Lyonne has signed on for a role in the one-hour series finale, airing September 16th. Not much is known about her character at this time, however.
Weeds airs Sunday at 10:00 on Showtime.
Do you think Nancy would be happy getting out of the firing line for once? Has she actually turned over a new leaf or is it only a matter of time before she reverts back to the Nancy of the first seven seasons?