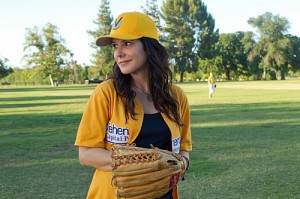 Weeds has been a lot of places and seen a lot of faces in its seven seasons of life. We've followed the Botwin family from California to Mexico to Denmark to New York to Connecticut, with a cross country road trip and a lot of ticked-off people thrown in for good measure. Let's face it – Nancy Botwin has screwed a lot of people and there's only so much she (and her family) can run before the past finally catches up, which is exactly what happened in the seventh season finale. A gunman caught the family off-guard, snuck onto the grounds of their new house, and aimed at Nancy's pretty little head, presumably ending the run of America's most infamous soccer mom.
But who exactly pulled the trigger? Were there any accomplices? And did Nancy even get the bullet? A week before its official debut, the final season premiere of Weeds has been released early, exclusively through Facebook, and answers all of those questions and then some. To be able to watch the premiere, though, you have to watch the upcoming second season premiere of Episodes first, which has also been available on Youtube for the past week. The Golden Globe-winning comedy begins its nine episode season the same day that Weeds returns for its final season.
The final season of Weeds premieres Sunday, July 1st at 10:00 on Showtime followed by the second season premiere of Episodes. You can check out details on the eighth season here, which includes when we'll find out the identity of the shooter and the central theme of the season as a whole. Additionally, there are teasers for the new seasons of both Weeds and Episodes here, with more to be found on Showtime's Youtube account.
Do you think that season eight should be the final season of Weeds? If so, how would you like the show to go out? If not, how would you extend it to a ninth (and possibly tenth) season?