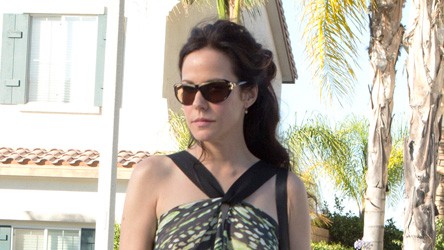 Like most people who watch Weeds, I thought that the show's prime came during the days of Agrestic, of pot-dealing at the local soccer matches, of U-Turn, Heylia, Conrad, and Celia. The show may have been able to regenerate into different forms of the central premise, keeping itself alive for eight seasons in the process, but it never quite lived up to the heights of the first three seasons. Now, in the penultimate episode of Weeds before the hour-long series finale, the show looks to be making a return home, both in terms of location and the source of its creative peak.
"God Willing and the Creek Don't Rise" finds Nancy trolling her former stomping grounds in hopes of finding a place to grow and eventually open up an upscale dispensary. The person she goes to to try and partner up with? An engaged Conrad, once Nancy's business partner and love interest. He lets her know that all the land that she bought for him to help her grow in is gang territory, so getting back into the swing of things in the rebuilt community won't be as easy as writing a check and batting her eyes a few times.
Elsewhere on Weeds, Andy comes looking for Yael, the head of the rabbinical school that he once attended and someone that he kept referring to as "the one" once they parted ways. However, Andy might be the only one carrying a flame for their time together this long, as she shows no signs of remembering who he even is. For much of the final season, Andy's been looking to become domestic, having dumped Jill over difficulty having children and quickie-marrying the waitress. Could his pursuit of Yael be just that, based on something he built up in his head and not on the reality of their former relationship?
The 100th episode of Weeds airs Sunday at 10:00 on Showtime.
Are you excited to have the show return to its roots, so to speak? What other former characters would you like to see pop up for a final appearance? Should Weeds have made it back to Agrestic/Regrestic sooner?