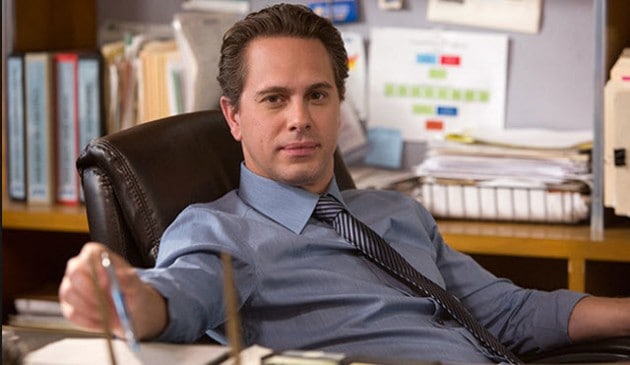 With only one more episode to go, it seems The Newsroom is unable to go gently into the good night without causing at least one more serious uproar. The show has always done its best to ruffle the feathers of various political parties or ideological groups, but now it's become downright prophetic.
That's courtesy of a pair of plotlines in last night's penultimate episode that are ripped straight from the headlines, even though Aaron Sorkin wrote and filmed all these episodes months ago. First, there's the concept of ACN being dismantled by a new-media jerk in pursuit of "citizen journalism," played by BJ Novak, just as a Facebook co-founder is being walked out on by the staff of The New Republic as he tries to make similar changes over there in real life.
Then there's Don talking with a girl who was the victim of rape on campus, but when no one believes her, she starts a website where victims can log on and name names since the police don't seem interested in helping. This is in the wake of the Rolling Stone fiasco where the magazine wrote a story about a young woman's gang rape, only to realize some of the facts didn't line-up after the fact. Now she's being accused of making it all up, but we have no idea if she simply misremembered details or was trying to shield herself from identification. But in the meantime, internet vigilantes are doing their best to post all her personal information online and hurl death threats at her.
The controversy, as expected, revolves around this second plotline, not just because of the source material, but because of the stance The Newsroom takes through the vessel of Don. I've never seen an episode so swiftly decried by major critics all over TV, and I have to say it's not without good reason.
The problem? It's an issue worth debating, but it's framed very, very weirdly, and there are a few phrases that seem downright ludicrous when you go back and watch them again.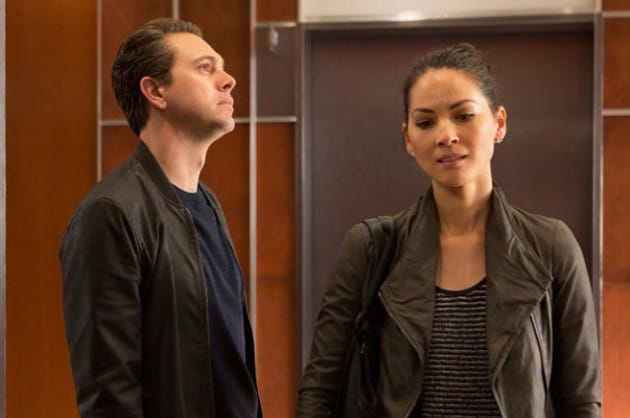 Things start out very uncomfortably when Don wonders aloud why the two of them didn't meet in a public place instead of her dorm room, and is nervous closing the door leaving the two of them inside for the meeting. This would make sense if the reason being was that he felt it might make the woman, recently the victim of a horrible assault, uncomfortable, but instead the implication is that she could falsely accuse Don of something behind closed doors, and he'd have no recourse other than his word. It's absolutely ridiculous framing.
From there, things get a little better, but still kind of cloudy. Don, arguing for Sorkin's perspective as ACN characters often do, explains why it's probably not the best idea to have a website that directly accuses specific people of rape on the internet, given its propensity for misuse. Even if it's well-intentioned, it's not really the right answer, he says. Past that, he also tries to talk her out of coming onto his show and debating her accused rapist live for the benefit of his ratings. Again, he may be trying to spare her further heartache and harassment, but this bit comes off a bit like he's just telling her to stay silent, because he really has no other advice for what she should do. And he does seem overly concerned about the loss of scholarships by her accused.
But things take a really weird, awful turn when the girl presses Don about whether or not he believes her. "Absolutely!" he says before clarifying further why he actually doesn't. He talks about how legally the burden of proof means that people are innocent until proven guilty. When she tells him to get his head out of the courtroom, he says that "morally" he still has an obligation to believe what he says directly is the less credible of the two parties, the accused rapist, over her, the alleged victim.
Morally?? This is where everything falls apart, and even watching live, I had to rewind and wonder if that line was misread or not. The legal argument of innocent until proven guilty holds up, but I really don't understand this weird, twisted moral code that no matter what the evidence at hand or the character of the two people in question you are morally obligated to believed someone being accused of a crime over the victim of that crime. This makes no sense, and in a show constantly trying to take moral stands, this stands out as one of the strangest and most distasteful.
Critics are right to take Sorkin to task for this. Everyone can have their opinion, but this was insanely poorly timed given the Rolling Stone situation, and a 15 minutes scene where a male character explains to a young woman how she should essentially "chill out" about her rape because "morally" the burden of proof is on her is absolutely insane. I know we live in an age where everyone is offended about everything at the drop of a hat, but this was a particularly tasteless moment from a show I normally love.
[Photos via HBO]