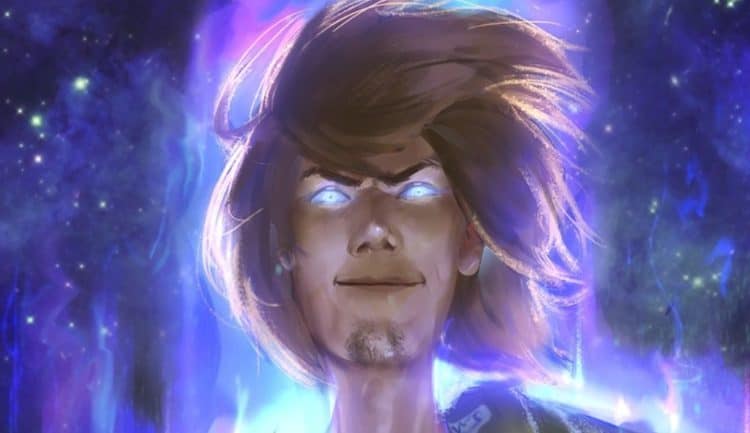 You don't need to be told that the internet is a strange place. Keyboard Cat, Charlie Bit My Finger, Sneezing Panda Baby, Harlem Shake — everywhere you look, there's another viral phenomenon brewing. Sometimes, though, even the people going mad for a meme aren't really sure what it means or where it came from. Cue Dragon Ball x Scooby Doo, the latest (and strangest) meme for fans of the world's most popular anime. For those who aren't in the loop, Dragon Ball Z fans have embraced Shaggy Rogers — the slacker sleuth of Scooby Doo fame — as part of the Saiyan universe. Sounds silly, right? Well, it is; it's gloriously silly. And we just can't get enough of it. So, what are these Shaggy Dragon Ball memes all about? Let's take a closer look and see if we can find any clues about why and when they first appeared.
Unleashing Ultra Instinct
In 2017, Dragon Ball fans first saw Goku enter his Ultra Instinct form. This is a type of Zen battle focus that allows fighters to move instinctively. Think Neo in The Matrix. Goku doesn't need to plan or consider his moves when in Ultra Instinct. They just happen because his body is a battle ready machine that knows what to do. In short, Ultra Instinct is pretty cool. After the Dragon Ball Z special aired, a YouTuber by the name of Midya uploaded an Ultra Instinct Remix video featuring Shaggy in Ultra Instinct mode. The video featured a clip from a 2011 Scooby Doo cartoon, in which Shaggy fights off a band of villains. After adding the song 'Ultimate Battle' from the Dragon Ball Super soundtrack, a legendary mashup was born. Just type 'Ultra Instinct Shaggy' into YouTube to see the original clip.
Meme madness started when fans of both shows picked up on the video and turned it into fan art. Soon, it was all over Tumblr, DeviantArt and Reddit. The rest, as they say, is history. Creative types took the idea and ran with it, creating a host of Shaggy x Ultra Instinct remix videos. By January 219, the meme even had it own subreddit called Shaggy's Power. Yes, the internet really is a strange place.
The Awesome Power of the Meme
It's just a bit of weird fun, right? Just anime obsessives being, well, obsessive? Yes, but the power of internet communities has never been greater. On January 27th, Woken News started a petition titled 'Make Shaggy a DLC in Mortal Kombat 11.' Within a day, more than 100,000 people had signed it. So, as silly as it seems, there may be mileage in the Shaggy x Dragon Ball meme yet. It's community strength in action (albeit delightfully frivolous). The best part of all is Ultra Instinct Shaggy fans have now brought Matthew Lillard in on the joke. Lillard is best known for playing Shaggy in the 2002 film version of Scooby Doo. After the actor received scores of Ultra Instinct Shaggy memes from fans, he responded with an eloquent "You have done well my child. Zoink." And the heads of cartoon fanatics everywhere exploded (we imagine).
The Second Life of Shaggy Rogers
The meme didn't stop there. Shaggy x Dragon Ball Z has spawned a shedload of weird and wonderful homages. You only have to type 'Shaggy Ultra Instinct' into Google to see the various super powers fans have given the character. He's gone from loveable goof to an unlikely Super Saiyan in flared trousers. So, don't be surprised to see this new incarnation of the character popping up in some of the year's fight games. Stranger things have happened. For a sneak peek at what that might look like, check out fan mods of Ultra Instinct Shaggy on Youtube. Our favourite is the clip of a modded Shaggy battling Grand Priest Daishinkan in Dragon Ball Xeonoverse 2. Forget Captain Marvel — Shaggy from Scooby Doo is humanity's real hope when it comes to fighting Thanos for the fate of the universe, right guys?
We've got to say, what we love most about this particular meme is the fact it shows love for two classic pieces of media. Dragon Ball Z first aired in 1988. Scooby Doo started all the way back in 1969. These are old worlds, with deep roots and it's wonderful to see young fans embracing them with as much fervour as their parents once did. Yes, it's silly but it's also rather wonderful.