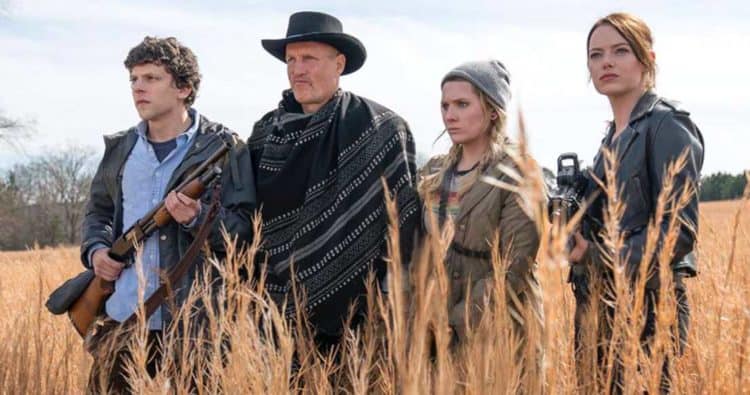 Of course there's going to be a third Zombieland, we'd be remiss to even think that there wouldn't be since honestly the first one was goofy but great and the second one looks and sounds as though it's nothing short of just as goofy and great. That being said though it's kind of hard to think about just what would go into the making of this movie, as Ryan Scott of MovieWeb seems to think that director Ruben Fleischer might actually consider having the survivors make their way towards an island paradise where maybe, must maybe, the virus didn't spread. But since it would seem that we still don't know for certain just what spread the virus, or if it's even mentioned that much, it's hard to say whether or not it could possibly travel or if it could lay dormant for a while, kind of like other movies in which the zombie virus doesn't take effect right away.
The idea of getting to Hawaii is kind of interesting but there's just one problem, do the survivors know how to sail? Most yachts don't carry that kind of capability even when fully fueled, and anything else might require too many people to operate. If they had the group commandeer a tanker it'd be enough to make every eye in the movie theater roll since such a thing is beyond even the realm of movie magic. A sailboat would work so long as they had provisions for a very long and possibly dangerous trip, and you can imagine that they wouldn't be calling for help if a squall or a full-blown storm came along. Ah yes, logic kicks the butt of such an idea unless conditions are perfect and the survivors are able to get absolutely everything they need. I'm not going to say that a third movie would be horrible, but it would take some serious planning and if they were going to use the same cast then the story might need to be pushed forward a few more years, but hopefully it wouldn't be another decade until we were able to see the next one.
Then there's the idea of super zombies that are so hard to kill. Who knew that the zombies would start to evolve in some strange way? This certainly puts a damper on things since it means that ammunition is now even more precious and isn't to be squandered, though Tallahassee seems to be slow in remembering that lesson at times. There are so many things to consider when bringing up the next movie since the world only seems to be getting more dangerous and doesn't seem to be giving the survivors much of a chance of living up to their label. Will Wichita and Columbus end up having a kid? That seems kind of irresponsible in a world like this since a baby isn't going to be much of a boon to the group considering that they make noise, they need a lot of care, and they tend to be a bit of a burden when you really need to stay on the move or feel the need to fight for your life. That seems cruel I know, but it's the unfortunate truth since in almost every zombie movie or show we've seen there's not a lot of room for sentiment or for those that can't do for themselves, yet somehow we see people defy the odds and just go for it. After all, Judith from The Walking Dead managed to grow up and turn into the ass-kicker that Daryl called her when she was little. It could happen, but it takes a lot of planning and a lot of careful thinking to bring this kind of idea into a story.
Zombieland is something that sounds more like some twisted amusement park than anything else, but the ironic thing is that not only did the movie take viewers for a ride, but it did actually end up at an amusement park at the end of the first one. To think that a third movie might take the survivors away from the danger is kind of hard to believe since it really feels as though Tallahassee wouldn't have enough to do and might get bored, while Little Rock might decide once again that she wants to go off and start her own family and find that there's really no one out there, or she might find someone like Berkeley again and make a huge mistake. It's hard to say at this point since the distance from the first to the second movie is already great enough that you can't help but think that things would only go to a new level of screwed up that would seemingly make no sense but would still be awesome all the same.