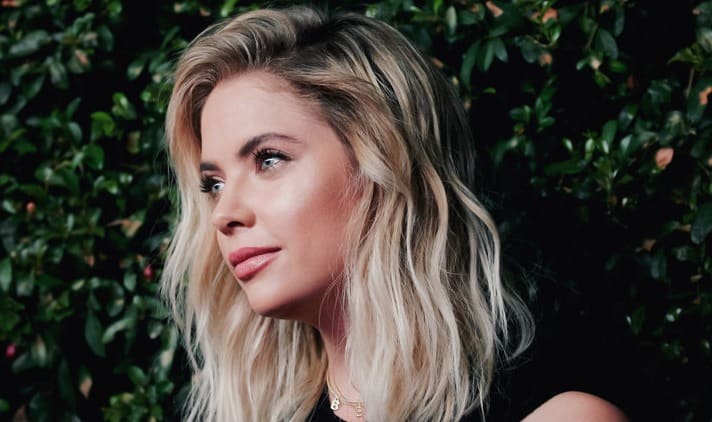 It would seem the biggest thing that has been happening, or at least one of them, to Ashley Benson since her time on Pretty Little Liars is what's been going on since she and Cara Delevigne managed to hook up. Amanda Arnold from The Cut is just one of the many that have been reporting on this matter but it definitely seems to have been getting a great deal of attention throughout the media world in the past several months. In all honesty it's not really certain just whether or not they wanted to keep their relationship on the down low or if they just didn't want to talk about it that much with people that would be too judgmental and therefore not open to discussing what they really felt about each other. It would kind of seem as though it's the latter to be honest since quite often in this society there are still those that can't fully accept that men and women will be attracted to the same sex and for more than the sake of curiosity. But as their relationship is their own business one might at least think it's possible to let them be and just allow that kind of happiness to blossom in a world where being happy seems to come with a high premium these days.
But as Ben Henry from Buzzfeed reported just recently there are still those that think they know what's best for everyone and there have been Twitter and Instagram trolls that have attempted to split Cara and Ashley apart in many different ways. Of course the whole idea of someone being able to manipulate how you feel and what you do with your life via social media is kind of amusing really since it relies heavily on the idea that one's word is that strong and that their influence is something that people are going to listen to and allow themselves to be affected by. Thankfully Ashley and Cara aren't that way since they clapped back hard at the Twitter trolls and while it's safe to say that they haven't sent them running, it seems only threat of harassment charges can do that, they have still retained their relationship status and proved that they are stronger together since they're more than willing to stand up for one another.
The funny thing about this life is that you can disagree with people about how they live, how they believe, and who they choose to love, but the moment your words start trying to break them down or tear them apart from those that they care about they become invalid unless there's a solid point to be had that has to do with the people in question actually coming to harm for their decisions. Even then, it's their life, their choice, and their path to walk. Cara and Ashley have been fielding dissent now for a while and have gotten pretty good at ferreting out the worst of it and responding to those that seem to warrant their time. As Mike Vulpo from E! News has said, living life well is the best revenge against such individuals, and to be honest it's the best way that you can get back at anyone that decides to tell you that you're doing it wrong.
In terms of her career Ashley seems to be chugging right along and has been a name and face that people still tend to view as one of those that is popular and desired within show business since she's been a hot topic for a while now. This whole mess that has come down about her and Cara seems more akin to the desire of a certain demographic to impose their will upon those that they don't agree with than anything else, par for the course unfortunately when it comes to humanity. Thankfully the two have been seeing each other through it and have been doing whatever it takes to stay together and remain supportive. It's a rather tough thing to want to respond at times but to also know that the more you feed the trolls the stronger their case seems to get. There are those times when it seems that a response is absolutely warranted and it ends up shutting down the hate for a moment or two, but given that they tried to keep their relationship on the down low for a while it does seem reasonable to think that those who wanted the dirt were bound to keep digging until they got it. Personally it seems like a very solid and possibly lasting relationship that makes them both happy, so more power to them.
To date it would seem that she's still in line to be seen here and there as she continues along her career, though what the future brings is anyone's guess.