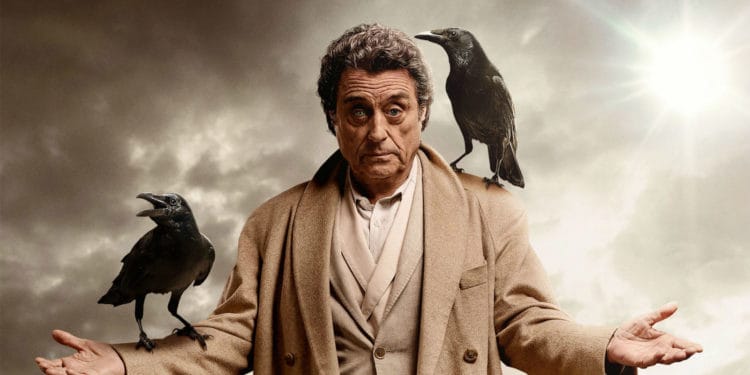 When we left off at the end of American Gods, season 1, war had been declared. That sets the stage for an exciting season 2, but it has yet to materialize. It took only two weeks into season 1 for it to be announced there actually would be a season 2, so where is it? It seems everyone is to blame, with generally large egos involved in the managed chaos. The rewrites continue, but whether the final result will be anywhere as good as season 1 will have to be decided by the jury of fans.
The latest info available says we'll have to wait until next year to see any new episodes, even though there was much buzz since production began 6 months ago. Some of The Starz management moguls say it is a difficult show to put together, with personality clashes both real and fictional to deal with. For anyone who follows the show, the departure of Bryan Fuller and Michael Green definitely did not help to move the show forward. The issue was money (surprise!) despite a $10 million per episode budget. The public spin is that Freemantle Media and The forlorn twins still are working things out, but this doesn't bode well for a season 3.
Jesse Alexander has been announced to take their place, along with Neil Gaiman, and their pairing back in February started things moving forward after a 3 month delay. The number of episodes is in flux, since the original plans were for 10 episodes, but then Green wanted only 8, but after his exit the number is yet to be decided on. It is things like this that cause fans to lose interest in even the best storylines.
As far as the actors, you can expect to see the return of Ian McShane as Mr. Wednesday, Ricky Whittle who plays Shadow Moon, and Emily Browning cast as Laura Moon. In the Likely to Return category are Bruce Langley playing Technical Boy, Crispin Glover as Mr. World, Pablo Schreiber cast as Mad Sweeney, Yetide Badaki playing Bilquis, and last but not least, Orlando Jones who is Mr. Nancy.
One actor not returning will be Gillian Anderson, deciding that Fuller and Green's exit from the show prompted her to follow suit. In The Undecided category is Kristin Chenoweth who plays Ostara/Easter. Like Anderson, she seems to be leaning towards loyalty to Fuller. One factor with Chenoweth is availability, as the delays in moving things forward apparently have played havoc with her own schedule.
More recent reports have surfaced that have the common creative differences emerging, requiring rewriting large sections of the script. Jesse Alexander has not yet been fired, but only because no one is choosing to use the word publicly. The script is said to be in its 7th draft (that's about one a month based on the February assembling of Alexander and Gaiman) so it seems obvious where the core problem lies. Gaiman wants to return to the novel's storyline, something Fuller and Green began moving away from in season one.
As for The plot of season 2, the general consensus is that it will be a much darker and angrier world we will be watching. season 1 primarily focused on the character development of Shadow Moon, and now that war has been declared things are likely to turn ugly. Flashing back to the end of season 1, we saw Bilquis heading to The House on The Rock, which just happens to be a real world roadside attraction in the land of Wisconsin. In The novel, this is where Wednesday originally rallies the old Gods and forces them commit to his cause.
Fans of the show are becoming increasingly frustrated with the delays, now approaching the two year mark. Some have said they actually have forgotten American Gods was a thing. Many who liked season one credit Fuller with its success, but there is no view of Fuller on The horizon to return to save the script and resolve the creative conflicts.
For what remains of 2018, all you can expect is maybe a teaser. Any trailer is not likely to surface until after the holidays, and there is expected to be some new characters added to the mix, as the series turns more towards the events in the novel. There was anticipation of an Easter 2018 start to season 2, and unless the differences are resolved sooner than later, expecting an Easter, 2019 restart of the show may be pulling a rabbit out of a hat.