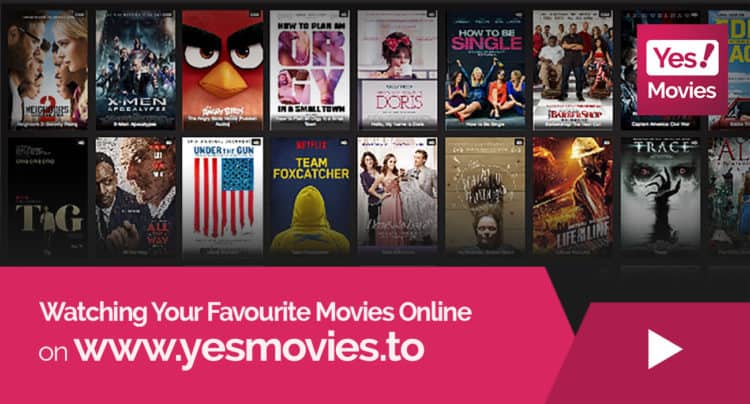 Yesmovies is another streaming site that delivers B-movies, Indie movies, and TV programs for free but the drawback is that it's not entirely legal. In fact you could say that it's not at all legal since most if not all of the material is not obtained in a legal manner and could land anyone watching the shows and movies in a great deal of trouble for merely watching on the site. The allure of it of course is that it offers everything for 'free' which is usually a dangerous proposition since it tends to come with add-ons that obliterate the idea of free watching and start to rack up the cost as the viewer has to purchase this or that to enjoy their viewing and possibly gain access to other programs that might not fall under the free service. In other words it sounds very much like a scam that is there to rip off those that have created the movies by not paying them as it should for the rights to show the films and shows that it offers its audience.
Unfortunately a great many people hear the term 'free' and flock to whatever service is providing such a boon in order to take advantage of it. Free usually means that they can get something without having to earn, pay, or at least wait for it and to many people that shell out the kind of money that makes the average person groan for cable service or other streaming services a free service is like a godsend. The only problem is that free services usually come with a very heavy caveat. What do people do then however when they find that they could get in trouble for such a service? Some folks tend to keep going and think that the warnings and the idea of getting in trouble is to weed out the suckers that are scared off by any legalities, while some will convince themselves that being bad for downloading illegal content isn't nearly as bad as doing something else. They'd have a point to be sure, but the legality of the site is no joke.
And yet if anyone ever does get busted for something like this blame won't fall on their shoulders, at least not if they can find someone else to throw it on. The site would be undeniably guilty for the content, but the idea of anyone shirking the responsibility that comes with actually downloading the site and then watching the material is pretty typical. Few people would willingly state that they knew exactly what they were doing and were informed that the site was not entirely legal, and would likely heap all blame on the site and demand reparations. Basically folks would blame the site for tricking them and then want their money back, along with a little more for their personal grief and anguish at being tricked. Isn't society grand?
While cable and other streaming sites do tend to cost an arm and a leg at times the reality is that they're safe largely because they obtain the permission and the ability to display the images, films, and shows that they do through proper channels and are therefore licensed to display pretty much anything that's within the agreement without any fear of reprisals. They then pass much of these rights on to the viewers that purchase the services they sell with the understanding that unless licensed or given permission, the viewers won't turn around and try to make a profit of their own by selling another service to people by using the same material. In many ways those that operate sites such as Yesmovies are those that are sneaking in under the big corporations, or trying to, and attempting to give people what they want by sticking their hands in the proverbial cookie jar to see what they can dig out. The problem there is that when they do deliver the goods the bigger corporations aren't getting their due, and neither are those that made the programs. Now as a person that doesn't really care for corporations this doesn't seem like a big deal, but when it comes to giving the credit and the money due to the creators of a show or movie it seems a sin indeed to try and cut them out of their fair share.
You might state that those profits might never be missed, but the principal of the whole mess is that those that produce these films and shows are still giving something for which they're receiving nothing with streaming sites such as Yesmovies, and it's likely that they don't even know that their content is being shared in this manner. So no, the Yesmovies site is not entirely legal. It's legal to operate and to download, but once you start watching what they have to offer then you share a certain amount of the blame for their actions.
10 FAQs about Yesmovies
1. Can you protect your computer from the ads when using Yesmovies?
Unfortunately, since the site is free, you will have to deal with other nuisances like the constant ads that keep popping up on your screen to interrupt your viewing. You can, however, invest in an excellent ad-blocker to keep the ads away that pop up any time. One option of an ad blocker is the Pop-Up blocker in Chrome extension which has effective results.
2. Is my computer safe from viruses when watching on Yesmovies?
On a site that offers illegally-issued videos and pirated movies, it is highly likely that people will use the chance also to install malware into your computer. You should, therefore, purchase good anti-virus software to protect your gadget; there is nothing like too much security.
3. How do I know once the latest movies are available on Yesmovies?
If you want to always be in the know once the series you have been watching releases a new episode or season, and it becomes available on Yesmovies, you can subscribe to get the notifications in your email. All you have to do is subscribe on the site by entering your email address then you will be receiving updates on TV series movies and any other news of top films.
4. Can I watch movies not available in my country?
With Yesmovies, your anxiety to wait until your favorite movies are available in your country goes down. You can stream it from the site and continue keeping track of the shows you like the latest episode available for streaming immediately, long before they become available in the country from which you are watching.
5. Does Yesmovies have a mobile App?
If you prefer watching your movies while on the go on your smartphone, the Yesmovies has your back with the Yes Movies App which is among the best movie app for the android users. It does not demand most of the android resources such as RAM. You can download the app from Google Play but before doing so, it is advisable that you get rid of the unnecessary cache, apps you are not using and temporary app data to lighten your android device.
6. Do you need to register on Yesmovies to use it?
The good thing about using Yesmovies is you do not need to go to the extra mile of creating an account to watch a movie. Instead, you can visit the site and immediately click on the favorite series to begin watching. Also since you do not need to have an account, the stress of keeping the usernames and passwords in your head is eliminated. This fact also applies to the movie app on your android device.
7. Is the quality of the movies on Yesmovies good?
The quality of the films you can watch on Yesmovies is good because since the site is illegal, it takes advantage of the hard work people put in producing high-quality movies then posting them on the website. While the users get to enjoy the excellent quality the movies afford, it results in massive losses for the producers who spent their money effort and time to produce the films. You can check out the video quality by resting the pointer on a thumbnail which reveals a card with the details.
8. What movies do I watch on Yesmovies?
Yesmovies has more than 9,000 movies available for streaming and provides the viewer with the luxury of selecting whichever genre they prefer. You can choose to watch comedy, documentaries, action, and thriller among many other types. Also, if you prefer to watch films from a particular country, you can choose from the list available.
9. What if I don't know how to download the movies I like?
If technology is not your strong suit, then Yesmovies makes it easier for you with its bright and user-friendly interface that helps you navigate quickly. The interface is simple enough for anyone and teaches you how to download the movie you have chosen to store in your hard drive.
10. Can I choose only the top rated movies on Yesmovies?
If you do not want to go through each movies deciding which is best for you, Yesmovies makes your experience much more manageable. It lists the Top IMDb TV shows and movies.