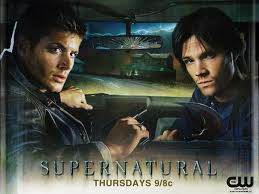 As you may have heard (and if you're a regular TVOvermind reader, you couldn't help but hear Clarissa's shouting), Supernatural won the TV Guide cover online poll, narrowly besting my personal favorite, Chuck. My dear counterpart and I had an amusing back and forth during the voting period about the superiority of our respective favorites, and the awesomeness of the fanbases supporting those shows. It all made for good fun, but as the poll drew to a close, and our "hatred" for the opposing show grew, something dawned on me. See, I just put "hatred" in quotes because I don't actually hate Supernatural (I cannot speak for Clarissa's feelings towards Chuck, though at Comic-Con, I thought I saw her giving Zachary Levi the stink-eye – Clarissa: This is entirely inaccurate, I was actually admiring Captain Awesome's awesome physique and Levi was standing in the way.), mostly because I've never seen an episode. To be honest, I've never watched an entire thirty-second commercial for the show.
I was thinking about this yesterday when I saw an Entertainment Weekly article asking what network one can't live without. My personal answer to this question is, despite its troubles, NBC. Maybe this is because I grew up in the glory days for the network (The Cosby Show, Cheers, Friends, ER, Frasier, etc.), but for whatever reason, I always find myself giving NBC the benefit of the doubt, and hanging on with shows that I really should have ditched long ago (The Event and Outsourced, I'm looking in your direction). Most of the shows I currently enjoy watching are on the Peacock Network: Chuck, Community, The Office, 30 Rock, Parks & Recreation, Parenthood, The Biggest Loser; and I know I'll be giving The Cape, Harry's Law, and Perfect Couples a shot.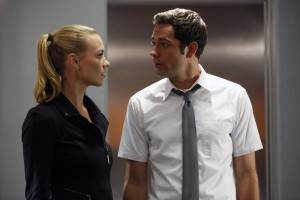 This isn't to say that I don't watch other networks (my Survivor and Modern Family articles will attest to that), because I do. But as I was considering the question asked in the EW article, I realized that TheCW wasn't even close to being in the running — there isn't one show I watch on that network. Even when I tried keeping up with Nikita, I was watching it on the network's website, not live or on my DVR, and still I only saw the first three episodes before that show fell by the wayside. Why, I wondered, do I have a blind spot for TheCW?
Now, I'm sure all of you can inundate the Comments section with the awesome shows I've been missing (and you should!), but I wonder why they've never held any interest for me. At first glance, I figure that, as a 32-yr old guy, I'm not really in the network's target demographic, but as a bit of a nerd, Supernatural and The Vampire Diaries should be up my alley for their fantasy aspects, and who can turn down Maggie Q kicking ass in a bikini? I tried thinking back to the last show I watched with any regularity on TheCW or its predecessors, The WB and UPN. I had to go allllllll the way back to Swans Crossing (Yes, that's Sarah Michelle Gellar in the center of the picture below – Clarissa: I am somewhat ashamed to say that I also watched Swans Crossing, then followed SMG to All My Children and then to Buffy). Yeah, that show debuted eighteen years ago, and it was pretty terrible. Further, it started the network's trend of airing soapy, not particularly good, teen dramas in which I just really wasn't interested.
I think those formative years with TheCW and its ancestors created an association in my mind of that network with the kind of television I don't want to watch, similar to the opposite feeling I have with NBC. Further, this bias continues to today, making me not really consider TheCW's programming when deciding what to watch. Of course, I'm only one man, and I can't watch everything on television, but to totally write off a network seems a bit, I don't know, wrong somehow.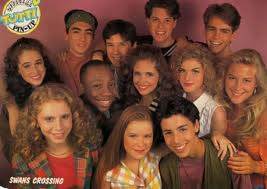 So, I ask you, is there a network that you, for some reason, just avoid altogether, despite hearing what great shows are airing on it? Have you had this type of situation in the past? Were you able to get over it, and if so, how did you it? What kinds of associations do you have with particular networks, and what formed them? Further, what blind spots do you have with writers, producers or stars? Will you never go near a J.J. Abrams show? Can you just not understand CBS' love affair with Alex O'Laughlin? Will you automatically set up a season pass for a Joss Whedon show? Please leave your comments below, but please don't turn this into a "That show sucks, so you suck!!" type of thread. This is a fun discussion about our television hang-ups, and not a chance to degrade someone else's taste. I greatly look forward to your responses.
Clarissa: I'm the exact opposite of Michael. I watch far too many CW shows to the exclusion of many other networks, although I do watch shows on Fox and ABC (but I only watch one show each on CBS and NBC). I'm smack dab in the middle of TheCW's top demographic (women 18-49). I like the cheesiness of 90210 and Gossip Girl, I love the mythology of Supernatural and The Vampire Diaries (although the hot boys are a bonus as well) and I'm very into the ass-kicking on Nikita. But most of the comedies Michael mentioned above on NBC I just don't follow. Do you think most of this has to do with personal preference? Or are the shows we watch and the networks we follow a reflection of our age groups and gender?
Follow: twitter.com/tvovermind
Follow: twitter.com/MikeNJD
E-mail: [email protected]