I had the opportunity to visit with the cast members of Falling Skies during Comic-Con last week, and the prevailing theme of the conversations always came back to the same question. What is it about Falling Skies that has captured the hearts and souls of viewers so dramatically when other, recent human versus alien television attempts have failed?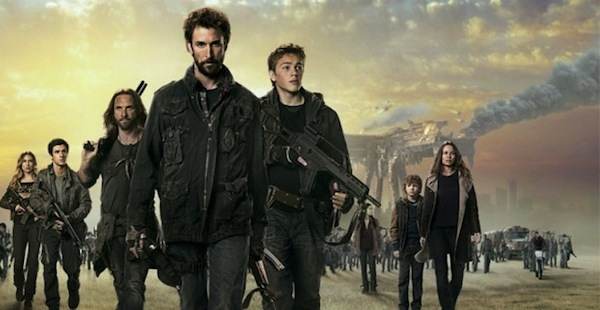 From my own perspective I hadn't given it a lot of thought, but it was clearly something the cast thought about often, as their answers were not only in depth, but surprisingly well thought out. Noah Wyle, in particular, gave an answer that hit me in a 'hammer to the back of the head'kind of way. Why didn't I think of that?
The aliens aren't pretty or recognizable, and can be downright frightening. Colin Cunningham noted that ABC's 'V'left something to be desired because there wasn't an urgency to fight off the alien invasion. As for those Skitters on Falling Skies, 'They don't have big giant boobs, or just a tiny thing on their head. The aliens are ugly, they're very real and there's a real threat to them.'
Granted, I did ask the co-owner of DreamWorks Television if they could have a stuffed Red Eye ready for me by Christmas, but overall, the threat felt by the invasion itself, the aliens and all they humans have lost makes for an extremely dire situation.
There's something very compelling about people struggling to deal with adverse conditions. People can relate to the storytelling. While the majority of us haven't encountered an alien visitation (I'm not judging!), very few of us haven't had hardships that knock us on our proverbial asses. The types of scenarios where you need to gather every ounce of strength you have left just to pick yourself back up and live to fight another day.
We can imagine ourselves as a Tom Mason, father of three, fighting not only for humanity, but to keep his family together. Or as Maggie, who already fought valiantly against brain cancer, only to find she's now put to another, greater test of her strength not just for herself, but on behalf of those who were once complete strangers.
As Noah Wyle said so eloquently, 'We're filming this show about people who have lost everything that they used to define themselves up to this point. They don't have their homes, they don't have their jobs, they don't have their families. This isn't really science fiction. A lot of people in this country are facing this situation and its reality.'
Nobody is safe. As we learn far too often in real life, nobody is safe. Frequently it's taboo to kill off characters that would otherwise be victims in this world in which we live. The mere fact that the Mechs use children as the main source of their unwilling army is ugly enough, but this year we've also seen two of the younger characters go down, with Jimmy's death in particular feeling truly heinous and causing a great outpouring of viewer reaction.
I think Falling Skies' mixture of identifiable characters, strength of conviction and their willingness to pull together and fight against a common enemy no matter how likeable or smarmy they were in the world before the invasion also has a great deal to do with its success. Pope and Weaver might have different values, but they share the desire to rid their world of the scourge brought upon it by an uninvited foe. That they all go about it differently, but aim for the same results, brings about some of the most powerful story arcs.
Whatever the magical potion, it's clearly a winning one. Already confirmed for a third season Falling Skies seems to be one alien saga that more than just the 2nd Mass is on board to win.
Be sure to catch the latest episode Sunday on TNT, 9/8c.