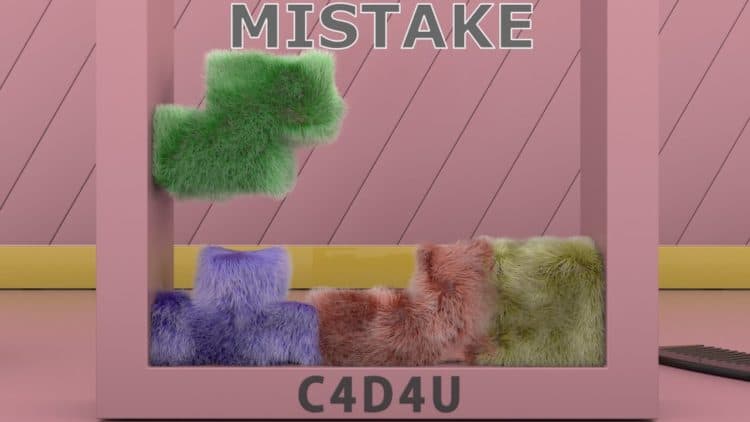 It's a little bit hypnotic, isn't it? Imagine if soft, fuzzy Tetris ever took off and became something that people wanted to see more of. Players might actually just play to see the pieces drop and bounce all over the place. But then again it might be kind of frustrating for some folks trying to anticipate just where the pieces would land and how each successive piece might affect the one before it. Obviously, if pieces are locked together tightly enough they might jiggle but not get knocked out of place, meaning if there's a gap anywhere then they're likely to move. But still, staring at this for a while might be kind of cathartic simply because it could calm someone down and possibly allow them to relax. It's funny how that works sometimes since those things that are able to get people to sit and watch for a while can soothe the nerves and allow them to simply focus on something other than what's going on in their lives at the moment. But creating something like this would require a bit of work no doubt to get the Tetris pieces right and to make certain that they don't rupture from time to time. It would still be a lot of fun to sit and watch for a while to be certain, but the dynamics of it are something that a lot of people might be interested in trying to figure out.
Apparently, the creator of the video isn't entirely happy with it though since he states that he had trouble getting the animation right on the hair that was used for each piece. There are probably a lot of people that would claim that he did just fine, but no one is harder on a person than someone that's creating the product, which is understandable. But despite what he thinks, this is kind of nice since it's also something that one can imagine would slow down the game in a big way since the bouncing and sliding around would take a bit of time, and trying to do this at a faster speed might actually complicate things a bit. It would be a challenge, that much is clear, but one has to wonder if the animation would hold up in the same manner. To think that this is animated is likely going to be kind of a revelation for some people, but making these actual pieces would be more than a little challenging since getting each piece to keep its shape might be a little difficult. But from what the creator has said it does sound as though making the animated pieces is still time-consuming and does take a lot of work to get it right.
Considering how long Tetris has been around it's not hard to see how so many games have modeled mini-games and other titles after Tetris since it is an easy game to fall into and just lose an hour or so since it can be a little addictive. The faster the game goes, the quicker one has to think, and the quicker one has to think the more likely is that they'll end up making a mistake here or there, which of course is bound to happen anyway since some folks aren't all that good at organizing shapes in a manner that makes sense. Hey, it's the truth, some people are good at Tetris and therefore at organizing things, and others just follow a more chaotic path. Being someone that does both when the moment warrants it, I've managed to notice it in a lot of other people, and there are those that excel at this game and yet lead a very chaotic life in how they arrange and organize anything else they own. The same is true of those that can't figure out the game, since they can be very organized in life and yet a wreck when it comes to the game. The deciding factor though is that someone playing the game still needs to know how to play it. Tetris isn't a hard game, in fact, it's one of the easiest games next to Pong according to a lot of people, but there is a level of difficulty that comes with prolonged playing since the pieces start falling quicker and one has to think just as quickly on where to put them or watch the pile climb to the top.
This fuzzy version might have a lot of people watching but not playing as much since they'd be entranced by the motion and the jiggly nature of each piece. It's hard to see why the creator didn't think it was as great as it is, but hey, that's how things work sometimes. People are their own worst critics more often than not.