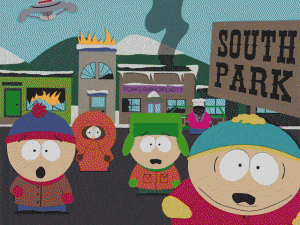 Two weeks ago, South Park's 200th episode created controversy when the series once again threatened to display images of the Muslim prophet, Muhammad. Earlier this week, there was news that a radical Muslim website had threatened the creators of the series, Matt Stone and Trey Parker. The threats made reference to the slaying of Dutch filmmaker and cartoonist, Theo Van Gogh. The site declared that if Stone and Parker kept up with their shenanigans, they had better watch their backs.
Not being the show to back down from controversy, the production of a follow-up to episode 200, simply called "201," went on as planned. Stone and Parker made an episode that they were comfortable with, and it was assuredly one that wouldn't back down due to radical threats. They delivered the episode to Comedy Central Wednesday night before it hit the air and…that's when things took a strange turn. The episode aired as planned in the 10PM time slot on Wednesday night, but as fans tuned in, they realized they weren't watching their typical South Park episode. The show was there, but it was filled with blurred images and bleeps for every reference that was made to Muhammad. As you can imagine, for an episode that centered around the religious figure, this started to get quite annoying. Many fans assumed it was a play by Stone and Parker, an attempt to show how ridiculous the world would be if we had to censor the smallest things. It wasn't until the duo released the following statement that we all realized what happened:
"In the 14 years we've been doing 'South Park,' we have never done a show that we couldn't stand behind. We delivered our version of the show to Comedy Central, and they made a determination to alter the episode. It wasn't some meta-joke on our part."
So there you have your explanation. The episode was delivered to Comedy Central, and it was the network who decided to heavily censor it. They blurred every image of Muhammad, bleeped out any reference to his name, and also bleeped and edited his dialogue in the episode. Fans were hoping to be able to see the episode online in an unedited form, but as of right now it hasn't been posted, and the statement above is posted in its place. Lucky for us, we will eventually see the episode when the season releases on DVD, as the South Park DVDs have recently made the switch to using the uncensored versions of episodes.
What are your thoughts on this? I personally find it a little aggravating that this is turning into such a large issue. I understand the protests by Muslims and why they're against the episodes showing Muhammad. That's not an issue for me. The issue for me lies with the network. In the past, they've gotten protests and threats for more issues than I could list here. In season six they featured Jesus being gunned down by terrorists. They've had whole episodes dedicated to telling us how stupid it is to be a Scientologist or a Mormon. But whenever they bring up Muhammad, the world watching seems to think it'll bring about another September 11th. The whole point of running these episodes is to show how afraid we've become over the smallest, tiniest things. They're proving this point exactly, and also proving that we've turned into a country that's suddenly afraid of it's right to free speech.