This past Saturday night, the Creative Arts Emmy awards were presented (the ceremony will be broadcast on E! August 28th). These awards, mostly for the creative and technical fields of television, are traditionally given prior to the main Primetime Emmy Awards ceremony as they are deemed "uninteresting" to most awards show viewers. Of course, the work of cinematographers, costumers and composers is integral to any television show, let alone good ones, so it is important to fete these artists, as well. Among the winners were John Lithgow (Dexter) and Ann-Margaret (Law & Order: SVU) for Guest Actors in a Dramatic Series, Neil Patrick Harris (Glee) and Betty White (Saturday Night Live) for Guest Actors in a Comedy Series, Jeff Probst for Best Reality Program Host (Survivor), Jaime Oliver's Food Revolution (Best Reality Program), the 2009 Tony Awards (Best Special Class Program) and FlashForward for Best Stunt Coordination (giving FF more Emmy wins than THE WIRE!?!?!?!). While some of the winners come as no surprise (it has been "The Year of Betty White" after all), some of the winners may illuminate who will NOT be taking home the big awards on August 29th (a complete list of the winners can be found here).
For example, Michael Giacchino, composer for Lost and already an Emmy and Oscar winner for his beautiful musical compositions, lost the Best Music Score to 24. Really? Seriously?? Listen, Sean Callery (who wrote the music for 24) is great and all, but no one doubts the superiority of Giacchino's score. Further, his score was so integral to Lost as a series that the writers actually wrote the music, as a character, into the script. So, what was the reason for the loss? Before we answer that, let's turn to Elizabeth Mitchell, who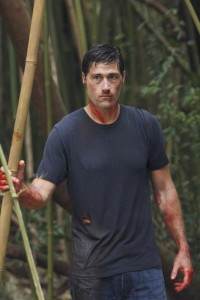 was uniformly praised for her portrayal of Juliet throughout the series. She lost the Best Guest Actress in a Drama Series to Ann-Margaret. This was almost as major an upset as the Music Score award. What do these two losses have in common? Both nominees submitted "The End" for consideration.
Controversy over how the series ended aside, the defining quality of that episode is its length. At two-and-a-half hours, the show had to receive special dispensation from the Academy to have "The End" even be eligible for consideration. Now, I'm just as big a Lostfan as anyone, but despite my best efforts, I haven't had a chance to watch the full finale again. How many of the Academy voters (frankly, a whole lot of older folks who aren't to keen on shows that border on sci-fi in the first place) actually want to watch an episode of that length for a first time, let alone a second? Yes, it's true that "The End" won an Emmy for Best Picture Editing (Single Camera – Drama), but that award doesn't get voted on by the entire Academy. Rather, only other picture editors vote for the award, who would likely be much more willing to watch a 2.5 hour episode in its entirety because of the special nature of their art and its requirements for proper qualitative analysis. What I think this all means is that folks from Lost who submitted "The End" to support their nominations shouldn't worry about preparing their acceptance speeches. True, the chances Matthew Fox knocks off Hugh Laurie, Jon Hamm, andBryan Cranston or Lost beats Mad Men and Breaking Bad are minimal, but I think Damon Lindelof/Carlton Cuse and Jack Bender, too, are facing an uphill battle. Smartly, Terry O'Quinn (The Substitute) and Michael Emerson (Dr. Linus) submitted alternative episodes to support their nominations, and therefore, have a better chance to take home the award (if they don't cancel each other out).
The Curious Case of Glee on Page 2…