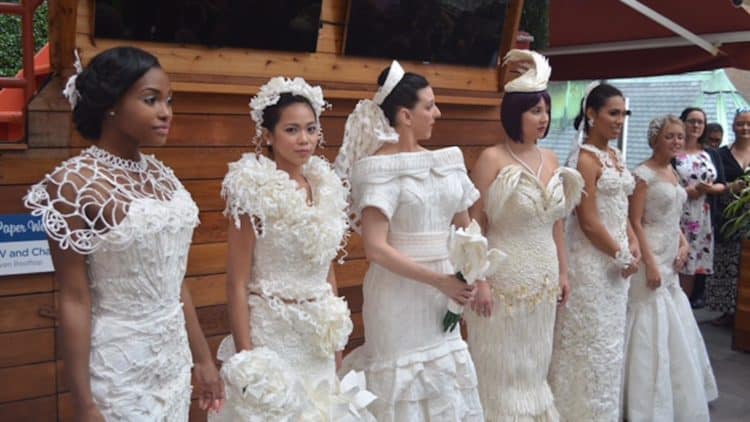 TLC ( The Learning Channel),owned by Discovery Network, has evolved from an educational cable station to become a leader in innovative reality programming, particularly in the realm of all things bridal. Despite hard economic times, weddings seem to be getting bigger and totally in line with the bride's *and sometimes even the groom's) personal point of view. The Learning Channel had educated themselves about fashion trends, so they jumped on the bandwagon made popular by show on WE network like "Bridezillas". TLC concentrated on keeping its brand fashion forward and that was a recipe for success. Where else could you find shows such as "Curvy Brides", "Brides on a Budget", "My Big Fat American Gypsy Wedding",: and most notably "Say Yes to the Dress" which premiered in 2007 and rated a spinoff show, "Say Yes to the Dress, Atlanta. With so much drama and lace being a big draw for viewers, it was perhaps inevitable that a formerly underground trend in wedding fashion should take center stage. Here are ten things you may not know about The Toilet Paper Wedding Dress Challenge show, which premiered on September 30th.
It's Been a thing for 15 Years
Yes, the Toilet Paper Wedding Dress Challenge, which, for those of us who never knew it was a thing, has been quietly going on for years, thanks to creative maven sisters Susan Bain and Laura Gawne who started it all back in 2004. As the siblings were passionate crafters and looking for a way to run a home business, they got together a small prize and held an online competition. Like the 2019 contestants, prior entrants were not wedding dress designers by trade. Some worked in the industry in fields such as costume design or alterations, but they designed these toilet paper wedding dresses on their own time.
Based on a Bridal Shower Game
Remember when bridal showers had less limos and bling, and more homemade casseroles and party games? It was fun to make the bride a toilet paper veil or even drape the hapless woman in a roll or two of TP, with the end result she looked more like a cross between a reject from a toga party and a mummy.. It was all fun and games and no one took it seriously, except that one distant cousin who wanted the poor bride to hold still while she tries to "pin it". The competition now scarcely resembles that old game as much as paper doll cutouts resemble what comes down the runway at Fashion Week.
The Judges:
Like any other fashion competition, there has to be a panel of witty and experienced design judges to make the difficult calls. The three chosen to judge "The Toilet Paper Wedding Dress Challenge" are:
Monte Durham-Anyone familiar with the world of fashion competition knows the name Monte Durham, star judge of "Say Yes to the Dress, Atlanta". His critical attention to detail and willingness to call a contestants work, "a hot mess" makes him a natural for this avante garde competition.
Zanna Roberts Rassi: As a celebrity stylist to the stars, Zanna Roberts Rassi has made a name in the fashion industry for her impeccable taste and fashion sense. She also says she was a bride herself so that adds to her unique qualifications for this special contest.
Jeremiah Brent: The co-host of the hit show, " Nate and Jeremiah by Design", yes, Jeremiah is an interior designer; however, he fits in well as the third judge on the panel. His appreciation of taking an idea from conception to construction using just a few raw materials helps him understand the contestant's challenges.
The Rules
For this competition, the rules are very strict. All entries must be made with toilet paper, thread, tape and glue, No zippers, hooks or stays (metal would crush the delicate toilet paper fabric anyway) but that means a special challenge to hold the easily shreddable fabric in place. Contestants did use some creative strategies to add color and detail. Donna, who won in the traditional category, went to extremes by soaking toilet paper, mixing it with glue and then ground it into a paste. One contestant, observing the rules that the TP must be virgin, not dyed, send away for a special order of vintage toilet paper, that at one time, came in pastels, as well as snow white. The judges appeared to be impressed by his ingenuity in obtaining some gorgeous accents for the dress.
It's Time Consuming
These dresses are not an overnight creations. It takes up to a year of working part time on these projects to see them completed and even then the challenge is just beginning. Unless the contestant lives in the neighborhood of the competition the dress has to be shipped to the venue.Then with only a few moments to fix the crushed detailing, split tissue or missing parts of the gown that fell off during transit, it's showtime for the lucky few finalists.
Lots of Squares To Do The Job
Would you believe it takes an average of over 6,000 sheets of toilet tissue to make just one dress. And when it comes to glue, it's measured in gallons not bottles.
This Year TLC filmed it in New York City
New York City, the fashion capital of the US was the place to hold the competition that would be televised to millions of viewers. One contestant, Gail, a grandmother from the Midwest, said she had never been to New York City, nor had she ever been on TV or even viewed a TLC show. Taking care of her grandchildren during the day and working as a seamstress by night, Gail worked into the night completing the elaborate fairy style dress, complete with rabbit accent, which she entered in the contest.
The Three Categories of The Competition
Traditional: Lots of toilet paper and glue beadwork, these dresses best represent what you see worn by a bride that chooses a traditional look, with a large hoop skirt, long train and classic lines.
Cultural: The cultural entries included a fairy dress and steampunk inspired dresses
Modern: These designers pulled off the clean lines and stylish shaping of a modern look with toilet paper. Incredible.
It's sure to be on again next year. Hopefully televised on TLC.