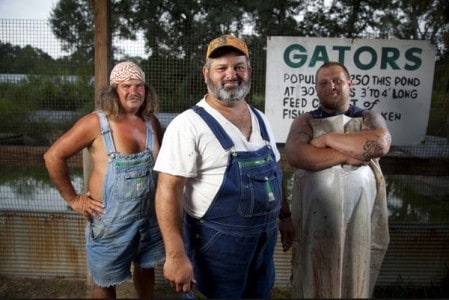 Tonight's Swamp People introduces changes to the series that die hard fans might not love. As we get to see Louisiana natives head straight for the depths and danger of the Atchafalaya Basin to begin a full month of alligator hunting and provide for their families, we also get to see that much of the cast is brand new. Fan favorites, oldies but goodies and the men that fans have gotten to know over the past six years have been cut from the show and new people have been brought in.
To add a bit of drama to the swamp, the water level is higher than it's been in many years and it's causing some serious problems for the alligator hunters. Many of the gators now have access to some locations in the swamp they've not previously had, and it's causing the hunters issues reaching them as many of these areas are inaccessible to the hunters. It's survival of the fittest at its best.
Troy Landry has been doing this his entire life, but he will make an announcement to his family that will shake things up in a big way. With the competition — the Jay Paul and R.J. — have an airboat they're using to reach the gators Landry cannot in addition to the serious cold front that's moved in, things are not looking good. for Bruce Mitchell, life's not looking so good for him without Tyler, the hunting dog he's loved and had for many years. When Ron Methvin brings him a surprise, things take a turn for the worse and leaves these two wondering if their partnership and their friendship can withstand the test before them.
Are you ready for this? Season trailer below!
It's huntin' season. TONIGHT, catch the season premiere of #SwampPeople at 9/8c on @HISTORY!https://t.co/cJgGQl56uJ

– Swamp People (@SwampPeople) February 8, 2016
Catch Swamp People on Mondays on The History Channel