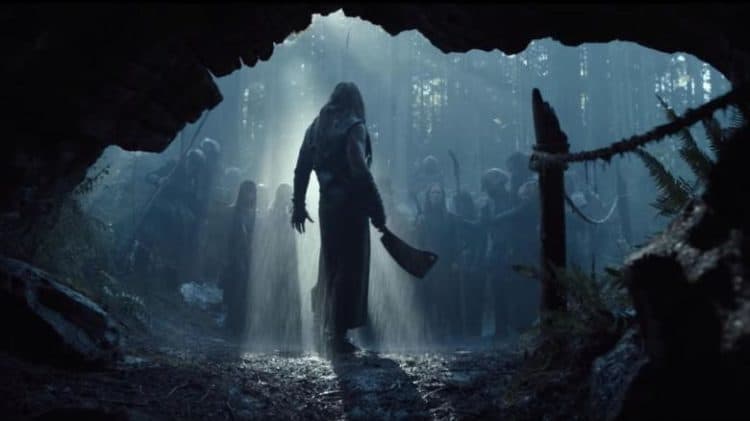 Jason Momoa will appear as the star of a new Apple release "See." The official trailer has just been released and it gives us a preview of what we can expect. Momoa's new role places him in the distant future after humankind is decimated by a deadly virus. The survivors of the pandemic came out of the catastrophe without their vision. From the small bits and pieces that the producers are sharing, there's cause for a lot of excitement, particularly if you're a big fan of Jason Momoa or Alfre Woodard. These two superstars are headlining in Momoa's lead and Woodard's supporting role. Here is everything that we know about the new release so far, so you will have an idea of what to expect.
Momoa's new role and the premise
Jason plays the part of Baba Voss. He is the father of twins who are born hundreds of years later, but the twins can see, hence the title. Vision is considered to be a mythic ability because the survivors have no eyesight. It is up to Voss to protect his tribe from the villainous queen who is out to destroy the twins because they are a threat to her leadership. Each member of society has learned to interact with one another and their environment in ways that do not require sight, and this includes the basics of survival including hunting, building homes, and other life necessities. When the twins are born, it changes the only way of life that they have known.
The cast of "See"
Jason Momoa leads the cast in the role of Baba Voss. He is led by Paris, played by Alfre Woodard, the spiritual leader of the tribe who gives Voss guidance. Yadira Guevara-Prip plays Bow Lion, Nesta Cooper is Haniwa, Sylvia Hoeks is Queen Kane, Archie Madekwe is Kofun, Christian Camargo plays Tamacti Jun and Hera Hilmar is Maghra and Marilee Talkington is also a part of the cast.
The development of "See"
This new American drama was produced specifically for Apple TV+, written by Steven Knight. The episodes are directed by Francis Lawrence, with both men serving as executive producers along with Jenno Topping, Kristen Campo, and Peter Chernin. The announcement of the order for a single season series was made in January of 2018. Production began in September of 2018 in Vancouver, BC, Canada. Filming takes place in the Strathcona Provincial Parx and the Comox on Vancouver Island, BC. It's going to be a pricey series with a rumored budget of $15 million for each episode. In an interesting note, we learned that many of the cast and crew are visionless.
The trailer is out and where you can watch "See"
Jason Momoa fans are excited about the new series, but it's not something that you are going to be able to see on regular television. The post-apocalyptic series is going to be offered through the Apple streaming service. Apple TV Plus. Apple Plus is likely a service that you've not heard of yet because it is set to launch, making its debut on the first of November. This is going to be a subscription service that we heard will be available for just $4.99 per month. Apple is going to offer it to customers in more than one hundred countries throughout the globe, so it's not just an American thing, it's going international.
You can get a free version
There is a special incentive coming out beginning on September 10th, for all customers who make the purchase of an iPod Touch, an Apple TV, a Mac, an iPhone or an iPad. You'll also get a year's subscription of Apple TV Plus for free with the purchase.
More about "See"
The trailer for "See" delivers a preview of what you can expect from the new series "See." It's going to be different than anything you've seen yet. The series takes a totally different approach to tell the futuristic story of mankind in a post-apocalyptic world, and to our knowledge, it's the first time that an entire civilization is sightless. Hiring a cast and crew who are either blind or have low vision is also a different approach, but one thing is for certain, it's diverse and inclusive. We just assume that the actors who are playing blind characters will know exactly what they are doing and their actions and reactions are going to be more authentic than someone who is just pretending. You can watch the trailer below:
Final thoughts
Jason Momoa is going to be back as a hero, and that's as it should be. Although the new series has only been given the green light for one season, much depends on how well it is received and how many subscribers tune in to the new Apple TV Plus streaming service. We've seen teh trailer and it's certainly an ample enticement to encourage anticipation of the new service. "See" has all of the earmarks of becoming a popular new series, and if it passes the consumer rating test, then perhaps there will be more seasons to follow. It would be lovely to have a bit more information, or perhaps even a new trailer or two to let us in on more of what we should expect, but half of the fun is the waiting in anxious anticipation. "See" has the potential to be the next big thing after "Game of Thrones" has made its exit. There's an entire community of fantasy fans who are looking for their next great series to keep them entertained. Perhaps "See" will make a suitable substitute to feed our fantasies adn keep us all entertained in the manner in which we are accustomed.