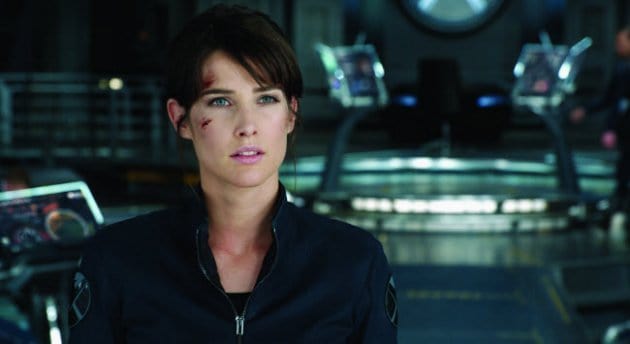 A welcome addition to the cast of The Avengers film was Colbie Smulders as SHIELD agent Maria Hill. There aren't nearly enough female faces in the squad, but even though she was just Nick Fury's right hand woman, it was still nice to have her around. And she definitely has the sexiest thousand yard stare from the movie, as you can see above.
Now word has broken that she'll be on board Joss Whedon's SHIELD show, alongside another agent, Clark Gregg as Coulson. The immediate question is not why, but how? Smulders is still a part of the How I Met Your Mother cast, but she swears that it won't affect her duties there:
"The commitments to ['How I Met Your Mother'] don't affect it,"Smulders told IamRogue. "and I can't really say but there are definite talks about it… I will do Maria Hill until they fire me and hire someone else to do it."
What exactly does she mean by this? It's hard to say. Either the shooting schedules of SHIELD and HIMYM don't overlap, she won't be on SHIELD that much, or she won't be on HIMYM that much. Those are really the only options I can come up with when thinking it through.
I would guess it would be choice two, because out of the main five roles announced for the show, Maria Hill isn't one of them. My guess would be that she pops in from time to time for various missions. The whole idea of the show in general is still a mystery to most, as you have to wonder how they'll be formatting episodes. Will it be a monster of the week type deal where they fight some lesser non-CGI heavy Marvel villains?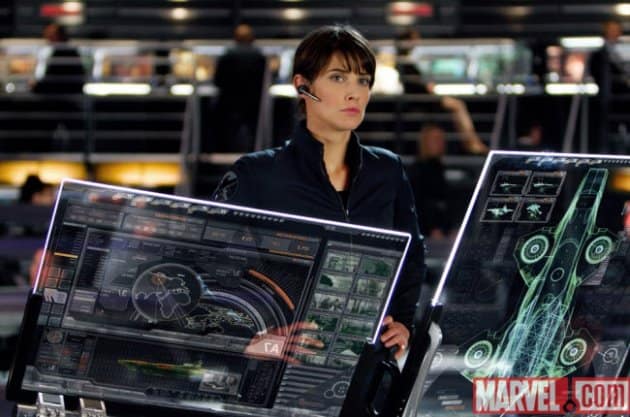 That's really the question here. How do you make a show about superheroes and villains without featuring all that many of them? That's something Whedon has discussed, but never really given a clear answer about. It seems like we're just going to have to trust him and wait and see. I can't imagine he won't craft a fantastic show, even if he then must leave it in the hands of others while he returns to film.
Smulders will also appear in Captain America: Winter Soldier, which has Steve Rogers fighting new threats in present day. With his love interest dead, will he possible get involved with Maria Hill now? I'd say it's possible, though I can't honestly remember if the two even had a scene together in The Avengers. Maybe in the pile of stuff that went to the cutting room floor.
Maria Hill is in fact an official part of SHIELD from the comics, meaning she has her own character arcs and what not that could be drawn on to bolster her character.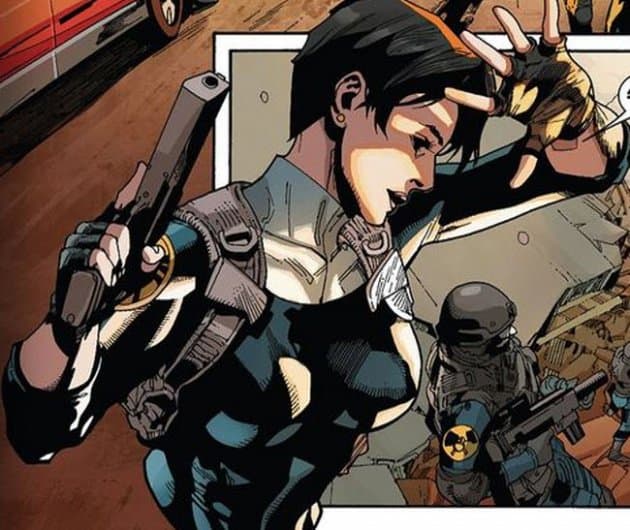 Marvel's EIC Joe Quesada described the character as such:
"[Hill] is such a strong personality, she's like a force of nature and quite frankly, while perhaps not immediately loved by all involved, she's certainly as strong and imposing a figure as Nick Fury. Right now I feel that people view her as the outsider but [while] I don't think she's any harsher than Fury has ever been, what's different is that we aren't quite clear about her motives"
Could she end up being a sleeper agent or something similar? Now that would be a twist I'd stay tuned for.
I guess we'll find out when SHIELD premieres later this year.