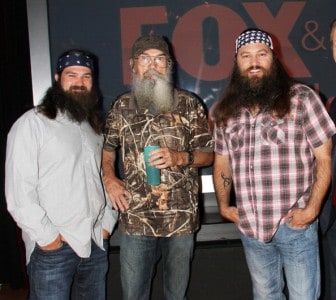 It's all about food tonight on Duck Dynasty. Tonight on "Pie Hard" we get to see that where food is concerned, this family does not have any issues with anything other than time. When Uncle Si and some of the other guys from the Duck Call room decide that they cannot go another moment without some Fried Green Tomato Sandwiches, they decide to take their lunch break a little longer than usual. By a little longer, it turns out that they've decided the best Fried Green Tomato Sandwiches are located in another state, so they take it upon themselves to take a little road trip.
Their short lunch break ends up taking them more than 5 hours, and you can guess that Willie is not too happy about that when they return. Is he mad about the time, or is he mad that he wasn't invited? And what will he have to say when Uncle Si tells him they've been saving up their lunch minutes and rolling them over like a cell phone plan? We laughed; will Willie?
There's a little drama in the cards tonight, too, when Kay is asked to reveal her secret recipes as Willie and Alan help her realize her dream of opening up her own bakery. Will she do it? Will she work on making her dreams come true at the risk of handing over her secret recipes, the ones that make her cooking and her baking so good in the first place? We kind of hope she does.
Be sure to check out Duck Dynasty Wednesdays at 9:30 on A&E
Photo by Getty Images