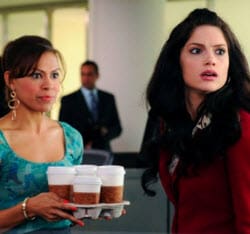 There will likely be a lot more cancellations coming, as the fall pilot season is usually "throw everything at a wall and see what sticks," but today we have our first official casualty.
That would be the CBS show, Made in Jersey. Yeah, I'd never heard of it either. I suppose that's the problem.
CBS is pulling Friday night legal drama Made In Jersey from its schedule after only two episodes. That makes Jersey the first canceled TV show of the fall. Undercover Boss will join the Friday night lineup starting Nov. 2, with CSI: NY moving to 9 p.m.
If CBS is cancelling your show, that must REALLY mean it was doing bad. That network is like the home of living undead of shows that have been on about eight seasons too long.
What was it about? She was a lawyer, but had to overcome the disability of being from Jersey? I'm not sure, I'm just guessing.
Doesn't CBS know the whole Jersey trend is fading? Now we have Honey Boo Boo's.