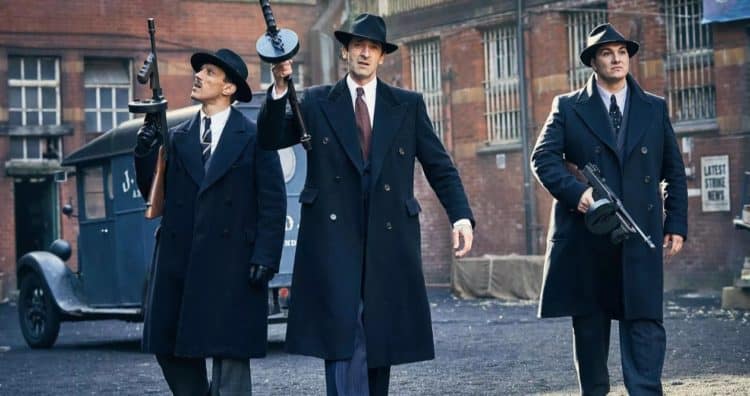 Good things are worth waiting for—even if that means two years without a new episode of Peaky Blinders. It's hard to believe that it's been two years since season 4 of the show ended, but here we are. We're finally seeing the light at the end of the tunnel with recent announcements that season 5 is finally getting a US release. Peaky Blinders follows the story of the Shelby family as they rise to become one of Birmingham, UK's greatest crime families. The story is also loosely based on a 19th century youth gang of the same name. In the season 4 finale, we saw Tommy Shelby step up in society when he got elected as a Labour MP (Member of Parliament) for Birmingham. It was certainly a move away from illegalities for the family, but we know the show isn't really about the brightest things in life. Still, it was an interesting development that solidified Tommy's status and made us all scratch our chins thinking about what could possibly be in the works for the next season.
Abarama Gold actor Aidan Gillen (Game of Thrones) has said in an interview that the next season will definitely see more action than ever before. Of course, politics is always a great place for controversy and carnage, and Tommy's entrance to politics last season is a sign for great and terrible things to come for the show. Since we lost a few characters from season 4, we can expect a slew of new ones to come on in the next chapter of the Peaky Blinders.As a quick recap, we remember that we lost brother John from the lengthy battle against American Mafioso Luca Changretta. Tommy also couldn't save Arthur Shelby, as he ends up getting garroted without warning. That death was still a shock to many of us, but thank goodness it was all a ruse to trick Changretta. Arthur is still alive, but Tom Hardy's Alfie Solomons is definitely gone. We'll miss Hardy's face on the show, but we're promised a few good faces on season 5. Sam Claflin is joining in on the craziness as Oswald Mosley—a fair trade for Hardy. We'll also see the return of the rest of our favorite characters on the show, including main actor Cillian Murphy as Tommy, Helen McCrory as Polly, Paul Anderson as Arthur, Sophie Rundle as Ada Thorne, and so forth.
According to Peaky Blinders creator Steven Knight, this season will start off with the Wall Street crash of 1929. This event may have happened in the US, but that demise had important ramifications throughout the world. We're going to see exactly how the Shelby family was affected by the events of the US economy's crash. We've seen the Shelby family invest their money in legitimate activities, but maybe they're just not meant to do the right things. Because of the Wall Street crash, the Shelby family will have to rely on their illegitimate money in order to survive. This will all be interesting to see knowing that Tommy is now an important member of society. Corruption and violence will be the name of the game, but we can expect the members of Peaky Blinders to still abide by their defining moral code—even in the most desperate of times. After all, if there's one place more corrupt and dangerous than the streets of Birmingham, it might be in the Houses of Parliament. So it's probably where Tommy naturally belongs.
In season 5, we'll also see some family infighting escalate even more. Finn Cole's character as the Shelby family's chief accountant Michael will play a vital role—at least in the first parts of the story. We'll be seeing him in New York City just as the crash happens, and he might even had something to do with it. The Shelby family invites him back to the UK, and Tommy is probably up to no good. There's an obvious tension between Tommy and Michael, and whatever is bound to transpire between the two might mean a greater rift between some family members. There's a possibility that Michael might be getting set up to take over the family business or maybe even start off his own rival gang. He's certainly capable of it—maybe even better than Tommy or any of the other cousins. If that's something that happens on season 5, we wouldn't be overly surprised. But then again, we might also see Michael get killed by episode 2. No one really knows what could happen in a show like this.
Peaky Blinders creator Steven Knight had envisioned the story of this show to develop from one World War to the next. We're nearing the end of the saga, as Knight plans for a total of seven seasons to complete the Shelby family's journey. With Tommy becoming MP last season, we might be leaning towards some type of redemptive efforts for his character. Tommy Shelby, if not for anything, is the perfect anti-hero. He's a complicated character that might still be capable of hope in the end. In spite of everything he's done in previous seasons, we might be expecting a Tommy that's beginning to shift in season 5. We might see a character that develops an internal conflict because of his newfound leadership role in society. Tommy's role in Parliament is bound to clash with his role in the gang. We just know that we'll see a lot of good Tommy in season 5. We have a feeling that the season will build Tommy up to be a good and decent man this season only to let him fall back down in the end. It's a terrible thought, but it definitely makes for a good show.