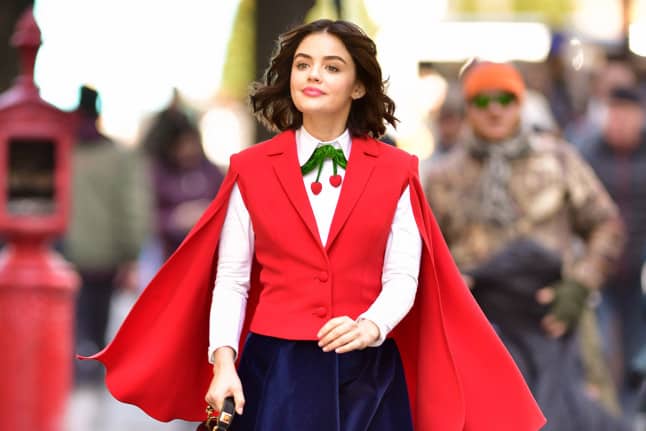 Archie Comics has existed since the late 1930s. As a result, it owns a lot of characters that were created over the course of decades and decades. One excellent example can be found in Katy Keene, a character that has appeared again and again since her initial debut in 1945. In short, Katy Keene is a character who is supposed to be an actress, a model, and a singer, thus making her a triple threat. Sometimes, she is presented as someone who has already managed to make it. Other times, she is presented as someone who is still in the process of climbing up. Whatever the case, Katy Keene managed to win a lot of fans over the course of her existence, perhaps because there was an element of reader participation in how interested individuals were encouraged to send in designs for accessories, clothing, and other things that could appear in the comic books. Something that would have presumably strengthened said individuals' investment in said character.
Unfortunately, Katy Keene was never able to secure the same kind of sustained success as, say, Archie and his supporting cast. For proof, consider how the character has been revived not once but twice. The first time was in the 1980s when a fan named Craig Leavitt received permission to publish a fan magazine, which showcased a fair amount of fan art by various individuals. Eventually, one fan artist named John S. Lucas's fan art proved to be so popular that he was asked to do the art for a revived Katy Keene Fan Club, which was followed up by him being asked to do the art for new Katy Keene comics. With that said, the revival lasted until the 1990s. After which, Katy Keene vanished from comic book pages once again until 2000s, which saw her showing up in a number of stories before disappearing once again.
Still, Katy Keene has managed to build up a cast of supporting characters. For instance, she has a younger sister who is named either Melissa or Mackenzie depending on the period in question. Likewise, she has had a number of notable love interests, with examples ranging from a red-headed boxer named K.O. Kelly to an Arnold Schwarzenegger parody named Arnold Horsenlegger and a Latino pilot named Ramon Ramirez. Besides these characters, Katy Keene has a rival named Gloria Grandbilt, who sounds a lot like Anderson Cooper's mother Gloria Vanderbilt, as well as a friend named Lucki Lorelei.
Based on this, it seems safe to say that while Katy Keene hasn't been featured in the comic books for some time, she has managed to accumulate a fair amount of material. Something that explains why the character has been chosen to headline the next Riverdale spinoff, which is named after her.
What Do We Know About the Katy Keene Spinoff?
For those who are curious, The CW has given the go-ahead for three pilots to be turned into full-fledged shows, with one of the three being Katy Keene. This wasn't particularly surprising, seeing as how both Katy Keene and Batwoman were expected to be picked up, not least because both of them came from The CW veteran Berlanti Productions. Still, such things aren't confirmed until they have been confirmed, which is why this information is so newsworthy.
Story-wise, it seems that Katy Keene will have not one but two main characters. Of course, one of the two would be Katy Keene. However, it seems that the other will be Josie McCoy, who is another famous character under the Archie Comics umbrella, seeing as how she is the titular character of Josie and the Pussycats. In any case, what has been revealed so far states that Katy and Josie are set to meet up in New York City, which is where they have winded up while in pursuit of their respective dreams. The two are set to meet a number of other characters pursuing their own dreams as well, with examples ranging from the socialite Pepper Smith to the theatre actor Jorge Lopez who performs as a drag queen named Ginger as well.
As for the people involved in the making of Katy Keene, a fair amount of information has been revealed in this regard. For example, Katy will be played by Lucy Hale, who interested individuals might recognize because of her main role on Pretty Little Liars. Meanwhile, people who have been following Riverdale will know that Josie will be played by Ashleigh Murray, seeing as how she is exiting Riverdale so that she can take up a role as a regular on Katy Keene. Based on this, some people might be wondering whether there is any potential for a crossover between the two series, but so far, the chances aren't looking particularly high. This is because while at least one character overlaps, Katy Keene is supposed to be set a few years into the future, meaning that setting up a crossover would be pretty awkward to say the least.
Moving on, the other people involved in the making of Katy Keene are pretty expected. This can be seen in how Archie Comics chief creative officer Roberto Aguirre-Sacasa is the creator for this new Riverdale spinoff as well. Moreover, he is confirmed for working as a writer as well as an executive producer, which should provide interested individuals with a measure of confidence in the end results. Besides him, a number of other individuals have been confirmed for executive producers as well, with an excellent example being the Archie Comics CEO Jon Goldwater.
Further Considerations
An exact start-up date hasn't been revealed at this point in time. However, it has been said that Katy Keene will be broadcast on The CW sometime later in the year. As such, interested individuals won't have to wait too long. Furthermore, as the start-up date gets closer and closer, chances are good that more and more information will come out for them to whet their appetite.