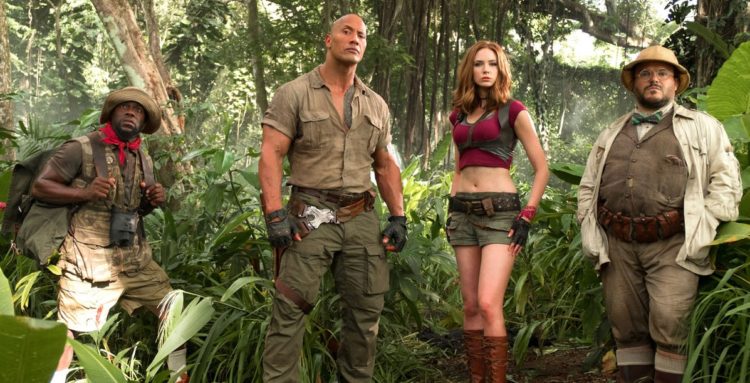 Apart from getting a few new actors the upcoming sequel to Jumanji: Welcome to the Jungle, is being kept under tight wraps at the moment by Sony, though it does seem as though the core characters are coming back. How you might ask? After all, Fridge did destroy the console that the game had been using to lure them all in, so how in the world would the game continue to menace anyone? One thing you should know about Jumanji though and should know if you've followed it this far, is that the game finds a way to keep going no matter what. C'mon, it transferred its entire world from a gem into a video game for crying out loud and then proceeded to be as enticing as possible.
Yes, it's kind of obvious that the same teenagers that were sucked into the game the first time won't be making another trip unless the writers decide to make something compel them to come back. But however likely or unlike that seems this time around it would be a little easier to accept if the console was picked up and somehow ensnared a new user as it's done before. Keep in mind that the game has been through a few users in its time before it got to Alan Parrish, and then it presumably went through another few users before it found its way into the most recent film. The fact that the last film paid homage to Robin Williams' character was incredibly awesome since Williams did start this off with a bang in a way that only he could do. But despite the doubts and the arched eyebrows of so many it's pretty obvious that the cast of the most recent film were attempting to make something special happen, and they did.
Right now most people are being pretty mum about the project but you can almost expect that social media will be buzzing more about it in the months to come since the movie is supposed to hit theaters at the end of 2019. That being the case however you can also kind of assume that if things don't go the way they should then the date will get pushed back, but let's hope not. In an era when reshoots and technical glitches are a very big reality there's always something that seems like it can go wrong. But in this version it almost seems fair to say that either the avatars are going to be hosting new players in the game, or the game will end up playing itself. Since there's not a lot on it so far that seems like an interesting estimation of the plot, but again, without knowing enough about it then there's a lot of guesswork and not a lot of concrete facts.
The only thing that's known right now is that despite the moans and groans of those that said Welcome to the Jungle would never live up to the original Jumanji it almost seems as though it was surpassed in terms of popularity, but then when you compare just one megastar to a movie that had several it's not exactly a fair accounting. The original Jumanji did have a great cast with plenty of people that had years of experience between them, but if you want to be completely honest, Robin Williams did carry the movie quite a bit. In Welcome to the Jungle Dwayne Johnson, Kevin Hart, Jack Black, and Karen Gillan created a huge amount of buzz since, quite honestly, they were the biggest stars on the roster with a very forgettable bad guy to go up against and a lot of other actors that are notable in their own right but not quite so big as the core group. So in essence the original movie has one big star while the latest one has four, which no doubt contributed a lot to the fact that it did so well and that it was able to hold its own and more in relation to the first one.
Again, there's really no need to say which one is better since without the first one there would be no new movie, and the fact that Welcome to the Jungle worked in a way to respect the first movie was just too awesome for words. There's definitely a mutual respect in place and comparing them is easier when you simply state that Jumanji has come a long way since the first movie and has only gotten better with time. The third one is, hopefully, going to be just as good and possibly even raise the bar a bit since despite the fun and engaging nature of the movie, one has to wonder just what they're going to pull out and what kind of tricks the writers have up their sleeves.