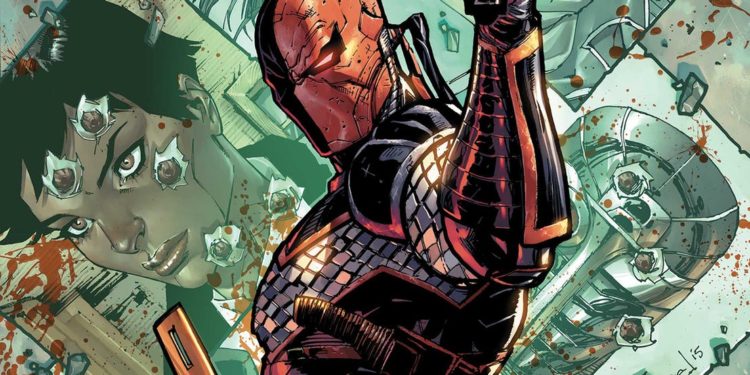 ScreenRant's Tatian Hullander makes a remark that it might be kind of overkill to bring another version of Deathstroke into the CW since he's already been portrayed a few different ways and overdoing it might lead to fan disapproval at some point. But given how much the CW likes to skip between universes at times it does seem as though there's plenty of room and that adding another one would be just fine since a lot of people might agree that having too much of this character isn't necessarily a bad thing in terms of entertainment. With that being said Deathstroke is coming to the CW with his own animated show titled Deathstroke: Knights and Dragons.
The show is going to be delivering a lightly different back story than other versions have given, but if you're surprised by that then you haven't been paying attention all these years since quite honestly each new version of the famed villain has been slightly different than the last. What's fun about Deathstroke is that his character seems to open himself up to plot twists and various story lines that might conflict with one another but at the same time are still insanely interesting and bound to draw in a large crowd just to see what's going on. In the DC universe he's the kind of character that some people can't help liking even if he's constantly at odds with the heroes and doesn't even get along with the other bad guys all the time. Slade Wilson's strange but effective manner is a quality that has given this character a great deal of depth as well as flair that a lot of people are drawn to for some reason.
Joey Paur of Geek Tyrant reiterates what a few others have said in revealing that out of all the stories there are to tell about Deathstroke it's still not known just what direction the show will take at the moment, though it is enough to assume that he'll be set firmly set again someone or everyone as it seems to be his role in the DC universe quite often. The character is something of a lone wolf and doesn't always work well with others as we've seen, but there have been moments when it seems that he doesn't need to since he's taken out multiple heroes at once, or that he can stow his pride just long enough to get a job done and make things work. Deathstroke is a very layered character that operates well on TV and could possibly be a big movie character if DC would take the chance and develop a full-length feature with him in it.
A lot of people are hoping that Manu Bennett will come and reprise the role, the voice role at least, of Deathstroke since there are those that have gotten used to the actor in such a capacity. It's hard to argue with this since quite honestly Manu is a pretty decent actor and has the kind of voice and bearing that one might expect for a person like Deathstroke. But at this time it's not certain just who is going to be playing the famed assassin and who the rest of the cast will be either. As Adam Bankhurst of IGN writes, Deathstroke isn't exactly new to the CW but he's definitely been kind of MIA for a while for those that got to see him on Arrow. As villains go he's one of the deadliest individuals in the entire DC lineup, at least among those that don't have insane, god-like powers that could put Slade in his place and then some. Deathstroke is after all more than just an assassin, he's a tactician that studies the battlefield and his opponents as much as he can beforehand, if possible, in order to gain the greatest advantage. Even if he doesn't have time to prepare though he usually finds a way to give his opponents a good run since he's the type that knows how to improvise and how to think on the run.
The release date is up in the air at this point since it sounds like the idea hasn't been taken through all the steps yet, but if we had to guess it might be anywhere between 2020 and 2021 that this show will be seen since right now it seems that finding a story line and an actor to voice the main part and every other role is going to take precedence. Plus there's going to be a lot of work involved even making this project work, so it could take a while before we're able to kick back and enjoy a show featuring one of our favorite fictional assassins. Hopefully by the time it does come around though it will have been worth the wait.