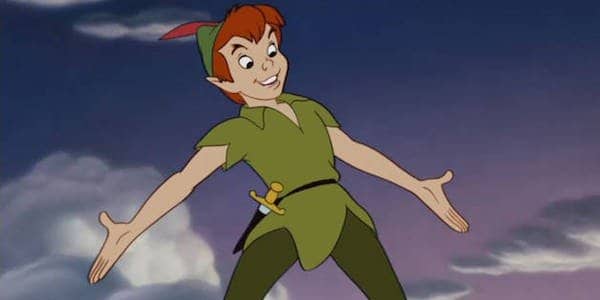 One thing we know for certain about the Peter Pan remake that's coming to Disney+, thanks to Jeremy Dick of MovieWeb, is that it's hardly the first remake or reboot of the possible story in history since Peter Pan is a tale that's well over a century old now and has been redone quite a few times and has been pretty different with every rendition. It even gave rise to the Tinkerbell movies that for those with daughters might have seen over and over again thanks to the popularity of the glittering fairy. This time around though Disney+ will be given the live action treatment and is currently being filmed in Canada. While the production time isn't expected to be overly long the release of the project could come by late 2020 or early 2021 depending on how quickly things are allowed to progress. The title, Peter Pan and Wendy, is pretty straightforward and it does appear as though it's going to hold pretty closely to the source material, though one has to wonder how much of the source material is really going to be put in since in recent years Peter Pan is one of the movies that's come under fire for racist and misogynistic ideas that some folks have decide to point out. At this juncture it almost feels likely that the movie will take this into consideration and possibly omit a few scenes that the 1953 version decided to put in.
Even the live action version starring Robin Williams, Hook, came under fire for some of its more controversial moments which is kind of hard to believe since the movie was pretty clean throughout much of it. Of course when you talk about a boy that doesn't want to grow up and hasn't been raised by anyone apart from himself and the experiences that he's had with pirates and all sorts of individuals that share his upbringing one is bound to run into a few problems that are based largely on inexperience and ignorance of the niceties in life that a lot of people feel are so important. That is a big reason why Wendy became such an important part of the story since she became like a mother figure to the Lost Boys and a love interest to Peter in some way, but also a grounding point that brought him to task for the behaviors that he'd felt were so natural up to that juncture. There's plenty to be said from a standpoint of right and wrong with Peter Pan but the story is something that has been a classic for so long that it's still bound to draw a lot of viewers no matter how much criticism is thrown in the path of the project.
It does sound as though this version will bring back Michael and John as well, two individuals that we haven't gotten to see a lot of since the 1953 story. In Hook they were implied but never shown since Peter's life had undergone such a huge change after he left Neverland and decided to become a husband and father. It's amazing how much people have actually panned Hook considering that Robin Williams was one of the best picks ever to play the role given that he was fully capable of playing the part of an older man that suddenly discovered a youthful side of himself that he'd forgotten. But it was also a touching story since it reminded people that no matter how tempting it was to never grow up there will always be other adventures that are worth exploring beyond the boundaries of youth, a point that the original Peter Pan has actually pushed but not always in such a way as to indicate that the main character would ever move on. In fact the character has been taken in so many different directions throughout the years that one has to wonder just which perception of the character is the best, the young boy that never wanted to grow up and was carefree, or the man that could have been had he been taught that growing up is not a curse but a rite of passage.
Believe it or not Peter Pan has actually been depicted as an evil being as well in the TV show Once Upon A Time, as he was the father of the young boy that would one day become The Dark One, or Rumpelstiltskin in other words. The boy that never wanted to grow up has been a tale that many people have enjoyed throughout generations and it's still one that a lot of people tend to think of as a favorite that still has every bit of its charm. Seeing yet another version come to Disney+ isn't hard to welcome, but it remains to be seen just how faithful the project will be when all is said and done.