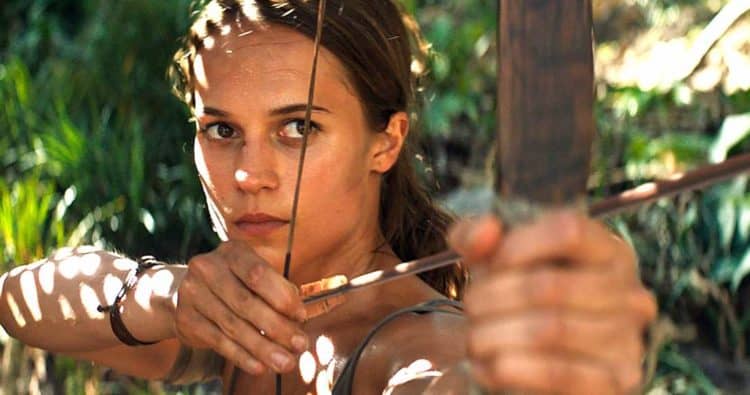 According to Ryan Scott of MovieWeb there's not a lot to say about Tomb Raider 2 other than it's a go and it will be taken over by a different writer and director since the director for the first one didn't seem capable of delivering what people wanted the first time around. That's not to say that the first Tomb Raider with Alicia Vikander wasn't a success, but it wasn't such a massive success that critics weren't heard over the cries of the fans and the adulation that was being tossed at it. Instead critics like Rotten Tomatoes went on to state that the movie was somewhat lukewarm given what was expected and wasn't all that much to talk about. If you've read what the critics say about some of the better movies out there however you know by now to discount a lot of it and use the rest to make digital kindling with since what the critics say is good or bad tends to be quite biased a lot of times and shouldn't really be given much consideration when it comes to anyone's taste in movies.
Scott Mendelson of Forbes is already thinking however that the second movie might have an issue that it will need to address since a 2021 release date isn't the problem, it's that it will be releasing not too long after Marvel's Shang-Chi and the Legend of the Ten Rings, which means it will have the same challenges as the first movie. Any time Disney has a movie coming out is a challenge for a lot of movies unless they've been built up and are fully capable of taking on the House of Mouse and using that momentum to get over the hump that Disney represents. With a new team behind the camera to take on any and all challenges it does seem as though Tomb Raider 2 might have a shot of doing better than its predecessor that starred Angelina Jolie, but it's also likely that unless it can drum up a serious amount of interest it might go the same direction. The hope of course is that there will be just enough of a gap between Shang-Chi's release and Tomb Raider's that people won't feel the need to miss out on one simply because they went to the other. That's not how it usually happens to be honest but when one anticipated movie comes out before another it does tend to affect the box office.
It kind of seems as though it might come down to familiarity and comfort when pitting Tomb Raider against a movie like Shang-Chi since a lot of people happen to know about Lara Croft since she's been the subject of a few movies and many video games at this point. But how many people know about Shang-Chi? The answer to this seems like it would be obvious since a lot of people might step up to be heard. Shang-Chi after all was developed back in the early 70s while Lara Croft came about over twenty years later. The big difference of course is that Lara is female and has a very alluring appearance whereas Shang-Chi became something of a stereotype that was continued but didn't get nearly as much of the spotlight as Marvel continued to roll on. Plus, much like Lara he is in peak physical condition but is likely also a great deal more skilled and more powerful even though he's still human. The big decider between the two is that Lara is a woman and as such has more sex appeal to go along with her adventures and with Alicia Vikander taking up the role again it does seem as though she might have the edge when it comes to just who people want to watch. Of course given what the MCU can throw into advertising and hype it's also just as easy to see that Shang-Chi might be seen coming from a year off since Marvel has been known to hype up its heroes in a way that makes people froth at the mouth in an attempt to finally see the movie.
It feels safe to say that Tomb Raider 2 won't have to worry too much about losing any of its thunder to the MCU since while Shang-Chi might be dialed in and used to help create the next phase that Marvel will use to push another big story line, Tomb Raider is still a big favorite among many fans and will likely recoup its budget again while making a substantial profit. So far there's really no need to worry over whether it will be an acceptable movie unless it goes the same way as Jolie's version in the second installment, and you can bet that this new director will be seeking to learn from that mistake.