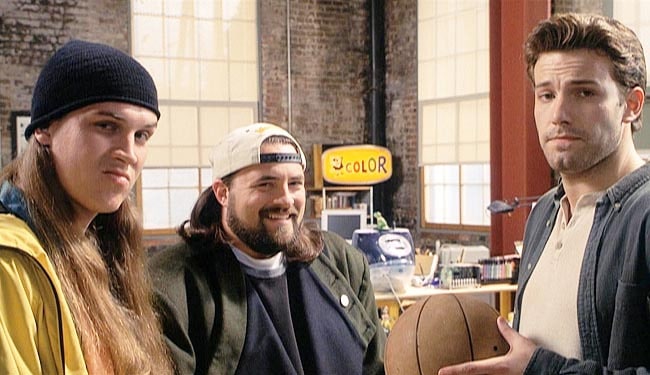 Well, we might have known that something like this might happen, right? Kevin Smith is the kind of guy that you can't really keep out of Hollywood and as many people might state it's not even wise to try since he's just too much fun and tends to make movies like this shine no matter how insipid they might seem. Yep, Jay and Silent Bob has been given the reboot treatment and thankfully from the trailer there seems to be a bit more to the story than the first one, though after the differences and the inclusion of many other cast members it would seem that, according to Sam Barsanti of AV Club, the main gist of things is about the same. They're still bound and determined to get another Bluntman and Chronic movie cancelled even though they didn't manage that with the first one, and they're still bound to head out on a trip to Hollywood that will see them get in all kinds of trouble along the way. But oh yes, there is more to it now since there are moments in the movie that stem from the first movie and make it a little more interesting.
For instance, Jay and Justice apparently have a daughter now, which is mind-numbing to say the least since the actress chosen looks quite a bit like her on screen father, and she's every bit as crude as him as well it would seem. Apart from that, both Jay and Silent Bob have definitely aged, as has most of the cast members that are being brought back from the original movie. As a lot of people might know Kevin Smith has the same habit as a lot of directors when it comes to using the same actors for his films, which is why you'll be seeing Jason Lee, Ben Affleck, Rosario Dawson, and several others in the movie as well. The story is pretty basic it would seem from the trailer but there's little doubt that it's going to get pretty involved since the number of celebrities showing up in the movie is just insane. Normally the idea of rebooting or remaking such a movie would be something that a lot of people would call a colossal fail in the making, but it almost seems as though Kevin Smith decided to really dig deep for this one and come up with something that was familiar but was different enough to engage the audience and keep them in their seats for the duration.
One thing that might be interesting is if the movie has a couple of fourth wall breaks like the original did. They were brief and nowhere near as extensive as those found in Deadpool and other movies, but they were entertaining since they allowed the audience to get into the movie at certain points, which is always a crowd-pleaser. That and the fact that Jay is now a father are both elements that could help to make this movie even crazier than the first one. But while it's evident that both men have been keeping in shape, it's easy to see that neither Jason or Kevin have really aged all that gracefully since time seems to have taken them both and wrung them out a bit. Thankfully they're both doing fine and are in relatively good shape, which is highly beneficial for Kevin thanks to the heart attack scare he had a while back. There was a point and time when people didn't know if he was going to keep on with his career since the trip to the hospital shook him up quite a bit, as was to be expected. But here he is doing his thing again and giving the audience a little more of what they want, or didn't know they wanted but will get anyway.
Those that have been following Smith for a while were no doubt elated to hear that he was coming out with another Jay and Silent Bob movie since quite honestly the pair have been a mainstay of Smith's career for a while and are a big part of how people have come to know about him. From their time on Clerks and Mallrats to the present day Jay and Silent Bob have been those two guys that you know are nothing but trouble but are still fun to have around now and again. So far this movie isn't really promising a lot but as Ethan Anderton of Slash Film might agree it's definitely willing to show that it's going to cater to the fans that have been following Smith around for a while, which is great on one end since it's almost like a reward for being so patient and sticking with him for so long. On the other end though it's easy to be skeptical of it since the first movie, despite being funny, was also pretty ridiculous. Bring on the hilarity then.