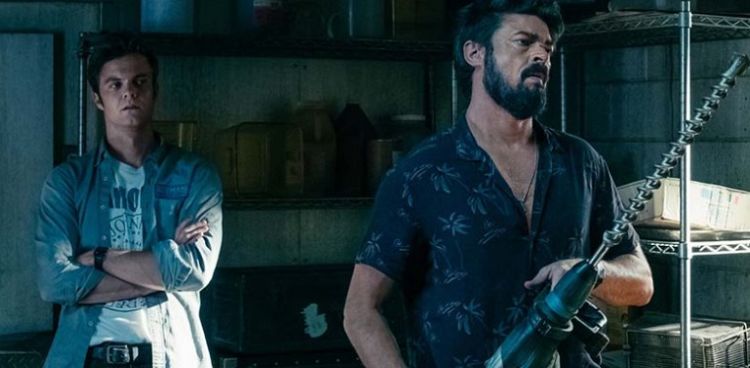 It's going to be a while yet, September 4th to be accurate, but eventually, The Boys are going to return and they're going to continue the fight they started to bring to the heroes in the first season, with Billy Butcher in the lead once again and a price on their heads that will make it tempting for anyone to turn them in and gain some kind of favor with the superheroes that don't mind killing people when they feel the need. Season two is about to get even crazier than the first one since the Boys are fugitives now and, if you saw the first season, then you know that it ended with a jaw-dropping revelation that might just change how things go, or not. With all the insanity that's been happening on the show so far, it would appear that it might take a bit of a stretch to really make it any more disturbing than it already is, but with Butcher having seen his wife, who he thought was dead, taking care of a child that was born to her thanks to Homelander, a corporate-owned hero that he means to take down, it's obvious that twists are to be expected in this show since it makes no bones about just how dark it's going to get, and how twisted the humor will be in the process.
Oh yes, there's plenty of humor there, but it's as dark as it can be for this type of show since the heroes are basically super-powered thugs that have high-powered backing with the Boys are seen as the enemy despite the fact that they're trying to stand up to and against the corporate-owned heroes. There's just so much wrong in this show that it's hard to think that any individual is good for more than a few scenes at a time, and that's being generous. The ambiguous nature of the show is enough to keep people watching if only because it's enough to wonder just who is in the right and who really cares if they're being heroic or not. In a sense, this is more about the sake of personal justice and vendettas than it is about anything else, and that's a big part of what makes the show feel a little more real and a lot more enticing. The second season is already looking more desperate for the Boys since being named as fugitives and being firmly on the radar of the heroes and the government is bound to make life a little difficult. Billy Butcher appears to be in good spirits though as it's likely that he has a way to remedy this issue, though it's possible that his companions won't like what will have to happen.
Butcher is the type of character that can talk anyone into just about anything, but he's also driven and unrelenting in his ways since Homelander is his main target and he's bound and determined to take the hero out. That might change just a bit, or might worsen in fact, after the revelation that came at the end of season 1, but it does look as though Butcher might actually continue the fight on basic principle. In any case, the heroes are still a big issue since apart from their public image a good number of them aren't exactly decent people, and while Billy and his people aren't all that great either, they're at least attempting to create a more balanced system that will enable people to see the heroes for what they are and not what they're being convinced that they are. Imagine how messed-up the world might be if heroes were actually this arrogant and backed by corporate sponsors and were being manufactured by a serum. That might be kind of a nightmare scenario that would lead something even worse than what's happened on the big screen already, though so far the show has been successful in displaying the idea in a way that's actually pretty amusing and worth following. Billy and the Boys are more or less doing what they can to expose the heroes for the super-powered frauds they are and it would appear that in the upcoming second season the Boys will be back at it and the stakes will be even higher.
Season 2 already looks to be shaping up as another impressive showing since watching Billy and the others take on the heroes is kind of interesting, especially since they should be easily outmatched and overpowered. But then again, as powerful as the superheroes are, they do have their own weaknesses. One very anticipated showdown is going to be between Billy and Homelander, as this match is bound to be something that could turn into an epic fight that Billy doesn't have a lot of hope of winning on his own, but could possibly win by tipping the scales in his favor somehow.