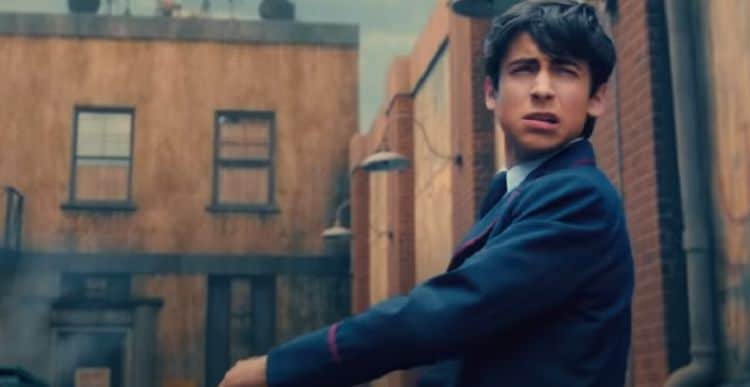 Face it, if someone could 'rumor' someone into doing anything they'd likely give it a try. Right? The kids from the Umbrella Academy will be making their way back by the end of July and it's looking as though things are going to be heating up in a big way as the end of the world is nigh. How they'll go about stopping this catastrophe is a good guess that many might want to chime in on, but given that they're the ones that caused it apparently with their time-traveling it's fair to say that their meddling has already gone a bit out of control and might need to be corrected before the world as they know it ends without any chance to hit the reset button. Of course, things are only bound to get more difficult since thanks to the time-traveling they've ended up at different times and in some cases have moved on with their lives and are bound to find slipping back into a troubling life quite difficult. But the greater challenge of course is the end of the world that in some ways makes their other problems appear small, and will be the main, overall theme that is being pushed for the season no doubt. On top of that will be the themes that will be quite prevalent and will no doubt contribute to the end of the world given that many people still wonder what might have happened had JFK survived. Being that one of the kids will have the unenviable position of making sure the end of the world doesn't occur this season will possibly be a very 'gray area' matter that will see the kids doing their best to survive while at the same time trying to justify what it is they'll have to do reach that goal.
The inclusion of JFK is something that might prove interesting to the story since there are a great number of theories surrounding the former president's assassination and even what might have happened had he survived. Everything from the most mundane and realistic to the most out of control and absurd has been thought up, and it's likely that the show will take this as a cue to come up with its own explanation of events. How the cataclysmic, world-ending event that's seen in the trailer is going to be caused is likely something a person could read in the comics, but on screen, it's bound to be at least a little different since it does sound as though the show will be deviating just a bit from the source material, though not by much. This of course is pretty standard since transitioning from a book or a comic to a show or a movie, any story is bound to incur a few changes here and there. But as many saw with the first season there is quite a bit of source material that's being used and thus far the show has stayed more or less true to the original story.
Right now there are only a select few that know how the graphic novels are going to turn out, and at this point, the novels still aren't finished it sounds like, so it could be that we'll be seeing the Umbrella Academy for a while to come on Netflix as it was given a multi-year deal. How well it continues to do however will be something that we'll need to wait and see since the reception thus far hasn't been horrible but it is evident that it's not as widespread or as great as it could be. Where we'll see the story go from this point and how faithful it will remain is anyone's guess considering that there could be some changes ahead that people don't see coming and it could happen that fans might want to see something different once the second season releases. One of the biggest problems with fans is that they are extremely fickle at times and even the slightest change to something they care about could trigger a veritable storm of comments that will either bury the show or could push it in a different direction if the creators are willing to make it happen. Way too many stories have been changed and subsequently ruined because of this in the past, but there are those that have been subject to change that have ended up doing so for the better. Perhaps any changes that come to the Umbrella Academy storyline could possibly be a positive and even intriguing development that could introduce something that people might really enjoy.
At this point waiting for July 30th is the best bet when it comes to finding out just what is bound to happen and what this current timeline holds in store for the group.