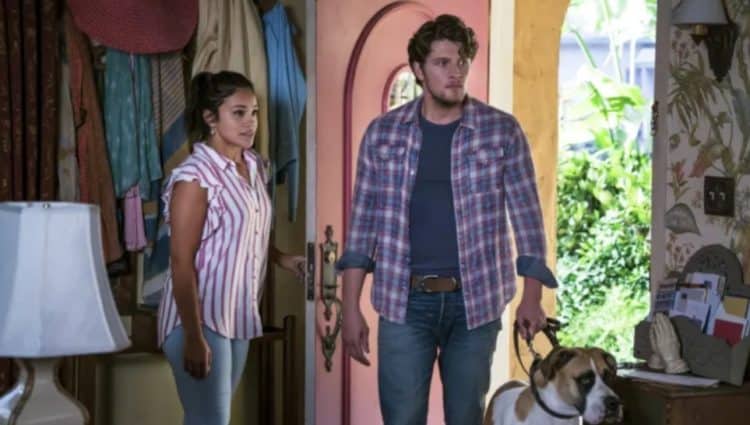 As we've entered final season of the amazing telenova "Jane the Virgin," fans are saddened that their favorite drama will come to an end. It's been a great 4 seasons and the fifth is already shaping up to be as memorable as fans had hoped. It's been a thrilling ride, but all good things must come to an end. In the case of "Jane the Virgin," however, many think that it's ending far too soon.   That being said, here are 20 things that we're going to miss the most about the beloved series.
1. The suspense
"Jane the Virgin" has delivered high on suspense and drama. We've learned that in the final season, Michael is definitely still alive and this adds one more complication for Jane. We're going to miss the ups and downs and the emotional rollercoaster that Jane has kept us on. When you're waiting for another episode to air, it's filled with suspense because we've all been wondering what is going on. It's going to be a let down because "Jane the Virgin" has become a regular part of our lives and we love being kept on the edges of our seats.
2. We're going to miss Jane
Jane is a character that many of us can relate to. No, it's not like people accidentally become artificially inseminated every day, but the character goes through a lot of real life situations and she has to make some very difficult choices. Jane is the kind of girl that everyone can relate to because she's smart witty and loyal. She's a genuinely nice person and she has a combination of personality traits that makes her easy to relate to. Jane is highly lovable and we'll miss seeing her character navigate through a complicated life.
3. We'll miss the romance
Jane has a really complicate love life. She broke up with Michael and began a new relationship with Rafael. Both of these guys are characters in the show who have huge fan bases, so it's really tough to say which one would be better for Jane. Then there's Adam from her past. He's the old flame who recently came back into her life, then left her to pursue his career in California and it broke Jane's heart. She has a way of making romance seem, well, more virtuous and heartfelt than some other characters. There's nothing cheap or degrading about her approach to love and romance and her values set the bar fairly high for the rest of us, but she does it in a way that isn't condemning of others.
4. The Marbella
Quite a few of us are going to miss the Marbella. It's the kind of place that you dream of living in and Raphael and Petra had it good when they were still together. It's a five star hotel and the place is absolutely dripping with luxury and comfort. It's just nice to see how well some people can live even if it's a bit out of reach for the majority of average fans. Some of us have even gotten some interior decorating ideas from the Marbella. It's one of the things that we loved about the show.
5. The virtuous values
We're going to miss the lessons that we learn from Jane in maintaining values. Hey, we all need a primer every now and then. Jane really is a virtuous person and as we watch her struggle to make the right decisions, regardless of what she would prefer to do, we learn that sometimes, the things that we want in life are not always the most appropriate or right things to do. Jane sets a great example of how making the right choices that go against our desires pay off in the long run and it's something that reminds us all of the benefits of self sacrifice for the betterment of all.
6. The multi-generational relationships of Jane
We're also going to miss watching the interactions and dynamics between Jane, her mother and her grandmother. For the ladies, it's heartwarming and it's a part of the show that most of us can relate to. For those of us who've lost mothers or grandmothers, it makes us feel a bit nostalgic. For the guys, it gives them an idea of what goes on between three generations of women in a family and it's knowledge that will come in handy for almost every guy on the planet at some point in his life.
7. Rogelio
We all love Rogelio and what we were able to see of "Tiago: A Traves Del Tiemo" seemed like a show within a show, as well as "De la Vega Factor-Factor." Of course they were contrived to fit into the storyline, but they seemed real and Rogelio is the character who makes us laugh and feel good, even when the rest of the episode is heavy as lead. We're going to miss Rogelio and his wonderful contributions. Who knows, maybe Rogelio will get his own spinoff series? It's not a bad idea, because he's someone that we're all going to miss.
8. The gorgeous guys
The men in "Jane the Virgin" are just one of the many reasons why viewers tune in to the telenovella. They're handsome and the characters are so well developed that it's a pleasure to watch them perform. Michael and Rafael are love interests of Jane and we can see why she fell in love with them. They're attractive, smart and there's just something extra special about each of them, even if Rafael isn't the gutsiest guy on the set.
9. The Whimsy
We're also going to miss the whimsical nature of "Jane the Virgin." It's well balance with its share of characters with high values and self-respect but the writers also tempered this a bit by throwing a few scalawags into the mix. It's a whimsical show that has its share of villains and good guys and ladies, all with some very complicate situations arising in their lives and we're going to miss the whimsical value of the show when it's over.
10. The Story line
"Jane the Virgin" has a solid plot and we're going to miss following the continuation of the story line when it ends. The drama is intense and it can be distracting, but the writers have done a great job of sticking to the story line. It's a quality show that didn't lose focus on the plot, nor did it stray from telling the story for the sake of dramatic effect. They did a great job of presenting conflicts with resolutions as well as excellent development of the characters as thy navigate their way through the story.
11.We're going to miss Xiomara
Xiomara is an inspiration to Jane as well as all women who watch the show. She's a lady who knows her own mind, as well as what she wants to get in life. She is strong and brave and she isn't afraid to do what she has to in order to get what she wants. She makes a stand for what she believes in and she won't be pushed into doing something that isn't right for her. It's been nice to see the relationship between she and Jane develop so nicely and we're going to hate to see this come to an end, because Xiomara is a character that much like Jane, teaches us life lessons whether intentional or not.
12. We're going to miss ll the love
"Jane the Virgin" is a television show that brings a whole lot of love into our homes. Viewers will miss the romance, the struggles, the mother daughter love and a variety of other kinds. The cast all have a chemistry when working with one another and it's evident in the way that the characters interact like a smooth running machine. All television series' should flow this smoothly. If you look behind the scenes into some of the social media shares, you'll discover that the cast are lot more than co-workers. They also spend time together when they're not on the set.
13. The mistrust
"Jane the Virgin" is one of those shows that has drawn in scores of viewers who love a good mystery. It seems that there is always some situation going on that creates a big and deep mystery. Fans love trying to figure out what will happen next, and if you don't believe this just check out a few of the forums. You'll find a lot of fan theories throughout the four seasons.
14. Alba's love life
We'll also miss hearing about Alba's love life. She's a lady who kept everything to herself until the time was right for her to share with Jane and Xiomara. She told them of the things from her past that still bother her and cause regret. Fans were happy to see her take up with Jorge after the death of her spouse, because she's been through so very much and she's a good lady who deserves the very best that life has to offer as a favorite character on the show.
15. We will miss Petra's antics
Petra is just the type of scheming characters that we all dearly love, or love to hate. Petra has done a lot of things that would curl your toes just to get her way. She even attempted to have herself artificially inseminated so she could get her claws into Raphael. Cheating on him wasn't the best way to keep him, as she found out. She just doesn't stop when it comes to making bone headed decisions that end in the foiling of her villainous plans. We're actually going to miss seeing what she's going to concoct next.
16. The parenting
We're also going to miss seeing how the characters respond with their paternal and maternal instincts. Having so many exes with kids on the show means a lot of co-parenting situations and it seems that everyone is out to meet the best interests of the kids but having an ex in the picture makes it a more difficult challenge in most cases on the show. We'll miss things like Jane and Rafael's disagreement with how to raise Mateo and other situations that came up.
17. The addiction
"Jane the Virgin" is a series that is highly addictive. It's something that you tune into regularly and for many fans, it has become an integral part of their schedule and lifestyle. What is everyone going to do when the final season airs and there are no more episodes coming up? It wasn't so bad to wait for the next season because fans knew that it was coming, but that's all changed with the announcement that this would be the last season for Jane.
18. The humor
We're also going to miss the humor of the narrator in the show. We've gotten used to the melodramatic tone and a plethora of jokes that flow throughout the narration. It's something that has greatly added to the entertainment value of the show and it keeps us updated on important aspects that we might otherwise miss. It's a point of view that is fun and enjoyable.
19. Will Petra ever find happiness?
Another thing that we're going to miss is the question that surrounds the future of Petra. Sure, she's done some pretty messed up things, but viewers have always wondered if she in her quest for happiness will ever truly find it? Petra has her following of fans as well as Jane and she's really been on the bad end of the stick for some time. It seems that she's always treated poorly and doesn't everyone deserve to be happy? Will season five give us a resolution to this question? We can only wait and see.
20. We'll miss the love triangles
"Jane the Virgin" is a show that has featured a lot of love triangles. We've grown accustomed to this and it seems that the characters are consistently flip flopping from one love interest to another. There's always some kind of competition as we've seen in the Andy, Michael and Raphael situation with Jane, between Petra, Jane and Rafael, Lachlan and Milos as well as multiple others. It's almost been too much to keep up with and if you missed a couple of episodes then you had some real catching up to do.