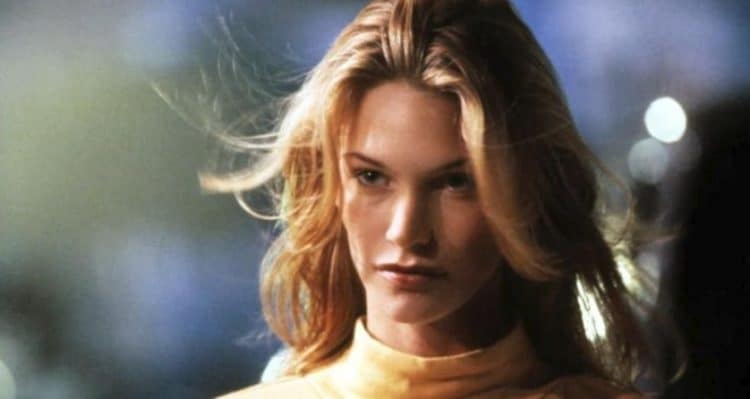 Natasha Henstridge was one of the many actors that seemed to hit the film industry on the run and was poised to become a breakout star after having gone through a modeling career and then into commercials. For a little while it seemed like it might be working, but then she continued to do films and even went into TV and things just kind of slowed down, then way down, and then finally she became another face, an attractive face for certain, but another face that didn't get nearly as much attention as she did initially when she first came on the scene. Those brief flashes you see from stars that begin their career on a high note are great, but unless they can sustain it they become old news rather quickly. The good news for Natasha however is that she's still in the business and has been going fairly steady for a while now, keeping a rather mediocre career but still getting to do what she loves.
To be honest she's fine as an actress, but she got buried in the press of new faces coming into the business it seems.
Species
Species was the one role that she was in that should have been what it was all about when she got started. Playing as a female alien that was reptilian in form and just flat out lethal was a great idea, but the overall execution was kind of poor. A lot of guys were more psyched to see her in the nude than they were to see the film, and that's an honest statement. Aside from that this story had merit but the way it was handled wasn't horrible, but it definitely wasn't good enough to warrant another one. Yet they did make a couple more movies at least, though Henstridge seems to have only been involved with the second one according to her filmography. That seems like one too many to be honest as it kind of killed off the vibe that the original movie could have kept alive. But hey, that's how some producers work, they want to try, try again even if it starts to kill off the possibility of a successful franchise.
Ghosts of Mars
It's a safe bet that a lot of people don't even remember this movie as it was there and gone so quickly that it was barely worth a mention. It was another one that could have elevated her career however had it not been given such a cheap budget and if it had been hyped up just a bit more. Ice Cube and Jason Statham were in this film as well but it's almost a guarantee that if you asked someone on the street if they remember the film you'd only get one or two people that would recall seeing it, and that's being generous. It was one of the many science fiction flops that have been made throughout the years that could have been the end of several careers.
The Whole Nine Yards
She plays the wife of a notorious hitman that has attempted to make a normal life for himself and then she ends up falling in love with the next door neighbor. Things do turn out okay but you can just imagine how nervous it would make anyone to realize that they're living next door to a contract killer. The movie was pretty funny and was given a sequel, The Whole Ten Yards, that Henstridge was also present in, but aside from that it was kind of a footnote in the careers of those that participated. Overall the movie was funny, but it wasn't entirely memorable.
Natasha's career hasn't been entirely bad but it hasn't been the star-studded ride that some might have liked to see either. Instead she's been on a moderate plateau when it comes to her level of fame and has seemed to stay there for a while. At one point she was definitely primed and ready to be one of the biggest stars in Hollywood, but now she's taken the middle road and while she's not a nobody, not even close, she's definitely not considered the upper tier of superstars or among the elite. In all honesty that doesn't seem so bad. She's not hounded as other celebrities are, she gets to keep her peace of mind a lot, and she doesn't have the pressure of having to stay at the top of her game all the time. She gets to work and do what she loves and is no doubt satisfied with working so that she can support herself and her kids.
There's something to be said for those that aren't among the elite in Hollywood, they're definitely in a more tenable position. People still want them for their films, but they don't have the overwhelming pressure that comes with the job, at least not to the same degree.