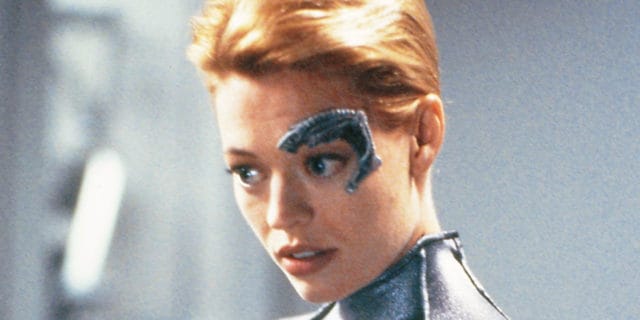 Okay, I'm about to geek out for a second here so bear with me. How many of you were "Star Trek: Voyager" fans like I was? Okay, it wasn't as good as the original Star Trek (we can debate this), but Voyager definitely held its own for seven great seasons. The show took place between the years of 2371 and 2378 on the Starfleet vessel USS Voyager which had become stranded in the Delta Quadrant during a mission.
Voyager then has to turn around and make the estimated 75 year journey home. The show had many intriguing story lines and great characters, but my favorite of all was Borg Seven of Nine played by actress Jeri Ryan. I don't think I've ever seen a hotter cyborg in my life (I told you I was about to geek out.) Just the other day I stumbled upon my DVD collection of Star Trek: Voyager episodes and that made me start wondering, what ever happened to Jeri Ryan after Voyager ended?
Here's what I found.
What happened to Jeri Ryan after Star Trek: Voyager?
After the conclusion of the last episode of Star Trek: Voyager in May of 2001 Jeri's career didn't stand still for one moment. Catapulted by 4 Saturn Award nominations and a win for her role on Voyager Ryan immediately took on the role of Veronica "Ronnie" Cooke on "Boston Public." Featuring an ensemble cast, the TV drama centered on Winslow High School, a fictional public school in the Boston school district. The show aired for four years and racked up awards including an Emmy Award for Outstanding Art Direction for a Single-Camera Series and a Peabody Award.
From there Jeri Ryan was cast as District Attorney Jessica Devlin in the CBS legal drama "Shark" from 2006-2008. Her TV career went quiet for a few years after that, she had a few bit roles on shows like "Leverage" and she appeared in the short film "Mortal Kombat: Rebirth" where she starred as Sonja Blade in 2010. Currently, she has a recurring role on the Amazon Prime series "Bosch" as the character Veronica Allen. She has also recently been announced to join the Sci-Fi series "Helix" for a multi-episode arc.
On the personal side of things, Jeri has seen her share of ups and downs. The divorced mother began dating Star Trek: Voyager producer Brannon Braga during the filming of the show. The shocking thing about that is that from February to November of 2000 the couple were stalked, the stalker later being convicted of Harassment and threats.
But as the saying goes: When it rains, it pours.
On June 18, 2004 a judge released custody and divorce documents pertaining to her previous marriage, something both her and her ex husband (an Illinois politician that was going up against Barack Obama for a United States Senate Seat) tried to block due to the fact that they both agreed that it would be detrimental to their son. In the documents, Jeri accused her ex husband of taking her to sex clubs and trying to get her to perform sex acts in public places.
The document disclosure led to her husband, Jack Ryan, to withdraw his candidacy. Fortunately, things have been looking up for Jeri since then. She met and fell in love with French chef Christophe Émé. The two married in 2007, and on March 2, 2008, Ryan gave birth to a daughter Gisele Émé.