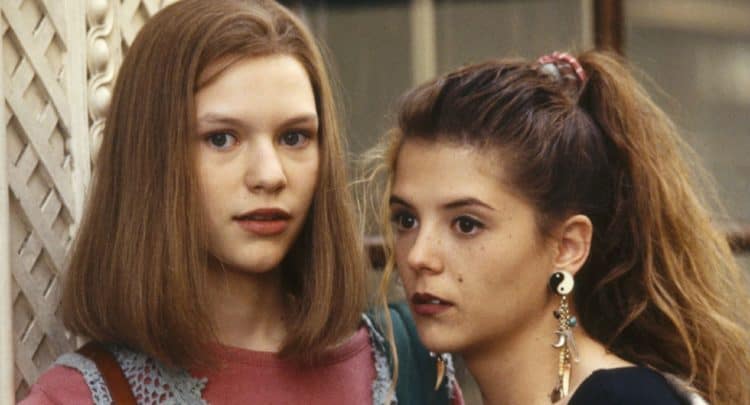 It's a pretty good bet that A.J. Langer isn't widely known any longer unless it's by those that remember her from various movies and TV shows from her younger days. Like so many other actors, once her career started to dip a bit it was easy to see how she might be forgotten. But while she was in the business she did participate in several projects that were well-known and did manage to showcase her in interesting ways. Her role in My So-Called Life might not be one of the most memorable roles to any but those that watched the show, but she did star in The People Under the Stairs, Escape from LA, and a few other movies that made good use of her talents. It does appear that A.J. has been retired from acting since around 2013, but there's a pretty good reason why, and a lot of it has to do with the fact that she married Charles Peregrine Courtenay, who is the 19th Earl of Devon, which makes her the current Countess of Devon. In 2014 she relocated to London with her husband and their two children, who are a lord and lady in their own right. She did take time off to raise her family but went back to acting for a little while before finally stepping away. It's not for certain if she's planning on going back any time soon, but as of now it wouldn't appear that she really has to since between what she's likely earned in her time, what her husband makes in his profession, and whatever might come with being an Earl and a Countess, it does feel as though Langer is definitely well off and doesn't have to worry too much about her finances.
This is definitely something that doesn't happen all the time, but it's also an interesting story since it is fairly rare that an actor or actress marries into a title of any sort. If you're going to cite Meghan Markle, don't bother, since it's still fairly rare despite the most recent moment. But it does appear as though Langer might not be thinking of coming back any time soon, and that she might also have plenty to keep her busy since having suffered from fibromyalgia for so long she knows what it's like and has become a public face to raise awareness about the condition. This is likely to keep her busy, along with her family and any affairs she has to deal with in her role as a Countess. According to Langer, she and her husband met in a bar without any prior knowledge of what type of background the other came from. That's definitely enough for many people to call it fate since moments such as those tend to happen only so often and being set up by friends, family, or in another way feels more likely sometimes. But if this is the absolute truth, and there's no reason to doubt it, then fate works in very odd ways to be certain, and some things are just meant to be.
It does make one wonder though how it works when marrying into a title since from what we're told in the movies, which is erroneous and meant for entertainment purposes most time obviously, those of royal blood usually have their marriages arranged for them and it's not common to marry someone that does not come from a royal line. Maybe those restrictions have been loosened quite a bit over the years since it would make a great deal of sense. Or maybe the restrictions, if there are any, are a lot looser when it comes to anyone that's not directly related to the queen. It's hard to know without looking it up and taking a good look at what the internet can offer, but the point is that if there were any restrictions laid down and enforced within the past century it feels as though they've been sufficiently loosened to allow individuals to pick and choose who they want to spend their lives with rather than worry about keeping royal bloodlines pure. If you got a good chuckle at that idea you're not alone. But in Langer's case, it does sound as though she and her husband are happy and that they've made quite the successful life together as the years have gone by, so there's nothing else to say other than to express happiness for the Courtenay's. In terms of her acting career it's enough to say that she did find some success during her time on screen and she did make an impression that a lot of people are bound to remember for a while, but in another decade or so it does feel as though she's going to be another name that people will need to be reminded of in relation to what she's done.